Sure, the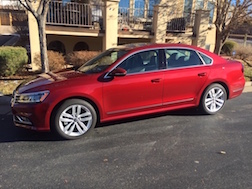 old adage about "ain't broke/don't fix it" can apply to car design, but Volkswagen apparently feels strongly about it. While other car manufacturers are only too happy to roll out full redesigns of their models every few years, VW has decided that the Passat is just fine as it is, thank you.
And that seems to be okay with the fan base. While VW has seen scads of people flock to their newer SUVs, passenger cars like the Golf and the Passat continue to deliver.
The Basics
The Passat is technically a mid-sized sedan, but it sure feels big. There are multiple trim levels for you to choose from, starting with the base model S all the way up to the SEL Premium – which is what I drove for a week.
The 2.0-liter turbocharged 4-cylinder engine won't wow anyone with its 174 horsepower, but that power plant manages to produce enough acceleration to satisfy. Note: There is a V6 option available in the GT, but you'd better get it now. That trim level and its V6 will be gone in the 2019 series.
Tinkering with the turbocharged engine delivers a bit more in the way of fuel efficiency, and the Passat now ranks about average for the class with a combined 29 miles per gallon.
The Inside
The first thing that struck me about the Passat's interior was all the room. I know its DNA claims it's a mid-sized sedan, but families are drawn to the spacious l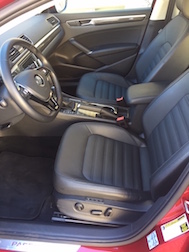 ayout.
That not only includes plenty of legroom for your passengers in the back, but a healthy amount of storage space, particularly in the trunk. I thought the front-seat storage was mostly adequate, but I was impressed by the storage space when you pop that trunk.
By the numbers it's basically average. But it's such a deep trunk that it offers more real storage space. (Of course, this could potentially be problematic. Once your friends see it, you'll constantly be asked to make airport runs. Tons of bags can fit back there.)
The seats are comfortable and the materials are good. Everything has a pleasing feel to it. Visibility is also quite good, no doubt a product of that massive interior and smaller support pillars.
I'm told by one Passat owner that these factors make the car such a joy on long road trips. You can throw everything in the back, spread out inside, and enjoy a comfortable ride.
The Drive
As mentioned earlier, it's not that the Passat will blow anyone away on the track. The 4-cylinder turbo engine does a good job, however, moving you around town.
As for handling, I found it to be about average in basic city driving, but once I got on the highway it improved. Steering and braking were both good.
Overall the ride was smooth if not exceptional. As one of the more affordably-priced mid-sized sedans I'd say that's a fair trade.
The Tech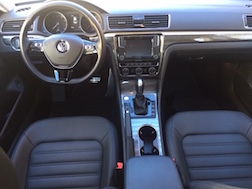 First, let's bow down to the VW designers who saw fit to prepare the Passat without all the overly-complicated controls that so many cars possess. With this sedan you get easy buttons and knobs, so any audio/climate control you want is simple.
Volkswagen also joined the party by including Apple CarPlay and Android Auto in every trim level except the base model S. Maybe you're like me and you've become ultimately spoiled by this feature. I actually get bummed when I get back into my own personal car that doesn't have it.
Of course, no car is perfect, and with the Passat you get an overabundance of nanny-ish warning beeps and bells. It was practically a symphony every time I backed out of my garage. I get it, walls are close, but shut up already. Too much.
What I did get a chuckle out of were the super-courteous reminders the car spouted out whenever I shut it off. My favorite was "don't forget your cell phone."
The Bottom Line
VW has packaged a nice sedan for families who enjoy their space and their budget. The Passat drives well and offers plenty of room to spread out.
So what it comes down to is this: Do you need a lot of flash and pizzazz in your transportation? This isn't the car for you. But if you want solid, comfortable transportation with solid tech choices, the Passat could be a great choice.
The Details
2018 Volkswagen Passat 2.0T SEL Premium
2.0-L 4-cylinder engine with 6-speed automatic transmission
Mileage (SEL Premium trim): 25/36/29 combined
MSRP: $31,650
As tested: $32,500
Reviewed by Dom Testa
Car provided by manufacturer