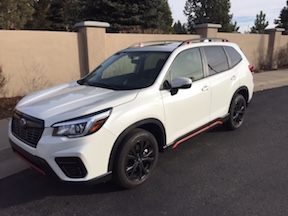 In Colorado we don't officially have a "State Car," but it might come down to a battle between Jeep and the Subaru Outback. Having said that, however, Subaru has another candidate that might just elbow its way into the debate.
The Forester shows off its newly-redesigned style and pizzazz for 2019 with cargo space for days and a healthy supply of new tech gear.
This crossover SUV gives you above-average ground clearance to go along with standard all-wheel-drive. That alone makes it popular for mountainous and/or snowy zip codes. But you'll appreciate the Forester just as much if you keep it on the pavement.
The Basics
I drove the middle-child of Subaru's five trim levels of the Forester. It starts with the base model conveniently named Base, then works up to the Premium, Sport, Limited, and Touring.
The Sport model I tooled around in provides a nice Goldilocks zone for features and options.
All Foresters are powered by a 2.5-liter 4-cylinder engine. The option of a 2-liter turbo has been phased out.
The redesign for this year has spruced up some of the exterior lines, giving the SUV a sleek, streamlined appearance. I've always thought the Forester was one of the sharper-looking crossovers, and these new tweaks haven't hurt that image at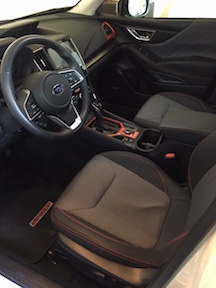 all.
The Inside
The first thing that strikes you when crawl inside is the space. Subaru took an already-spacious interior and actually bestowed a touch more room.
It starts with generous legroom, and that includes the foot space for backseat passengers. Headroom is very good up front but, thanks to a higher back seat, not quite so impressive for those behind you. Still, it's decent, and all five passengers in the Forester will be satisfied.
The seats themselves are comfortable. Visibility is excellent, a product of smaller-than-average roof pillars, something you don't get too often, actually.
I appreciated the stitching on the seats – and even the stitching on the dash. I wasn't personally drawn to the orange accent pieces inside, but they're not gaudy. (And, I suppose, Bronco fans will dig it.)
The layout of the cockpit is fine, and, although you get a nice 8-inch touchscreen to work with in Sport and higher trim levels, the Forester still provides the basic knobs and buttons which many of us applaud.
Storage upfront is a tad smaller than I expected, but it's okay. Subaru would be wise to consider some of the passenger dashboard cubby holes that are becoming a big hit.
Ah, but climb into the back and you'll find a little over 35 cubic feet of cargo space, a bit of an uptick from last year. That number expands to 76 when you fold the rear seats. This is undoubtedly another huge plus for outdoor fans.
The Drive
I give the o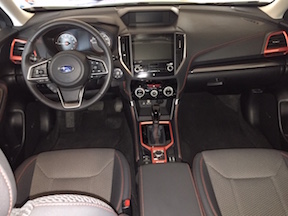 verall ride a B+, dinged by a minor issue of acceleration. That's not to say it's bad; it's just not the kind of pep off the line some people demand.
Cruising around town I found it more than acceptable. The only people who might wince would be those who crush the gas pedal frequently.
Otherwise, Subaru's commitment to a solid drive is still in place. Handling won't fool you into thinking you're in a sports car, but it's still good. Same for steering and braking.
The ride is relatively quiet with just a bit of wind noise when you reach 55+ miles per hour.
The Tech
Strong marks here, beginning with the introduction of Apple CarPlay and Android Auto for the first time in the Forester.
You'll also find an in-vehicle Wi-Fi hotspot which requires a monthly service fee. Passengers in the back have access to A/C outlets in the center console. They'll love you for that.
The touchscreen, as noted, starts with 6.5 inches in the lower trim levels and then jumps to 8 for Sport, Limited, and Touring.
Also, there's some very cool tech available if you opt for the top of the line. The Touring edition has something called DriverFocus. This technology uses facial recognition to keep track of your head movements and give off a warning that you may not be paying enough attention to the road.
I'm guessing some people will dislike that, but it's pretty cool. Pair that with the EyeSight driver assist gear and it's obvious that Subaru is serious about passenger safety.
The Bottom Line
Another hit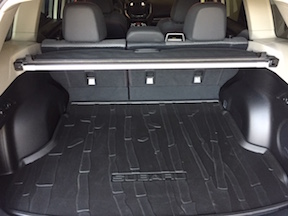 for Subaru. For decades they've gone all-in on catering to people who live in snowy climates or who love to go camping.
Now they've updated the style, the space, and gear, and rolled out a crossover SUV that manages nearly 30 miles per gallon combined.
With its comfortable ride and practical cargo capability, the Forester provides a good deal of value for the money.

The Details
2019 Subaru Forester Sport
2.5-liter, 4-cylinder Boxer engine, 182 horsepower
All-wheel-drive
Mileage: 26/33/29 combined
MSRP: $28,795
As tested: $31,815
Reviewed by Dom Testa
Vehicle provided by manufacturer