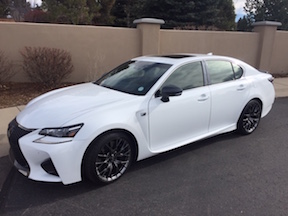 Some people long for a smooth luxury car, filled with high-quality materials and plush comfort. Others clamor for a beast on the road, something that will satisfy their animal urge for power.
Marry the two and you find yourself behind the wheel of the Lexus GS F. Power and class combined.

The Basics
The GS F is a midsize luxury sedan, but what it sets it apart from others in the segment is the dedication to oomph.
Its performance 5.0-liter V8 engine kicks out 467 horsepower, which, granted, doesn't put it at the top of the class, but provides enough get-up-and-go for you, my friend. You'll like the growl, too.
It's coupled with an 8-speed automatic transmission, which is great, and rear-wheel drive, which isn't so great in snowy climes.

The Interior
I've owned a Lexus for several years and have driven many more for review purposes. I have yet to sit in the driver's seat and not be impressed.
The seats are remarkably comfortable, and the materials are first-rate. The Lexus folks don't hit a home run with everything (more on that later) but no one can accuse them of skimping on the luxury part of luxury sedan.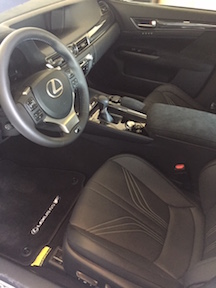 The interior is a somewhat-odd combination of stitched leather with – could it be? – velvet? Let's call it faux velvet. I thought that was a bit over the top, but I suppose it's all in the name of bathing you in style.
The GS F is not only spacious for front-seat riders, but even your passengers in the back will have significant room to spread out. I'm 6-feet tall and had no issues with cramped space in the backseat whatsoever.
Storage space is generous, with good-sized bins and cubbies up front, and even a nice fold-down compartment for your rear-seat passengers.
The trunk isn't super-large, but it is deep. Those rear seats don't fold down, either, so you don't get additional cargo space that way. You do, however, get treated to a pass-through in case you wanna lug some skis up to the hills.
I enjoyed the visibility as a driver, but one negative tick goes to the steering wheel itself. It felt almost slippery to me, which was surprising.
The Drive
Once again Lex
us plays its part well. Although the V8 doesn't seem to provide the rocket-like experience I've had with some turbo numbers, it does dole out a good amount of grunt power.
If you're into 0-60 numbers – which, let's face it, are mostly just for show; I mean, how many of us wait for a traffic light to turn green and then race up to 60 mph – the Lexus turns in a respectable 4.7 seconds. Not the fastest in the segment, but not a tortoise, either.
Thumbs up to the overall handling and drive, which was smooth and reliable. I've raved for years about Lexus steering, something that played a big part in the purchase I made five years ago. The GS F stays true to form, with silky-smooth and sports-like steering.
Other than the V8 growl mentioned earlier, the ride is quiet, even at highway speeds.

The Tech
Okay, so here we go. Earlier I mentioned that Lexus doesn't hit a home run with everything. In the tech category for this particular model I'd say they came through with a solid double.
For one thing you do
n't get Apple CarPlay or Android Auto, which is odd. It shows up in other Lexus vehicles, but the GS F gets robbed. Instead you have to make do with the Bluetooth connection and a knock-off known as Siri Eyes Free.
But most of us these days are spoiled by Apple/Android connectivity. Why you gotta hold out on us, Lexus?
At first glance the 12-inch screen seems way cool, until you play around with it. The controls are too distracting for a driver. Instead of easy knob controls we have to joust with buttons. No, Lexus, no. We want easy knobs and touchscreen buttons that don't require long glances and manipulation.
On the plus side, get the Mark Levinson Premium Sound as an option. It sounds wonderful.

The Bottom Line
I recognize that it's damned difficult to package everything into a car without a prohibitive price, so with the '19 Lexus GS F you're getting a solid, well-made, sporty midsize sedan that envelops you in style.
You get a superb ride and a gorgeous exterior, and you have a ride that you'd actually enjoy taking on a long-distance
cruise. It's that sleek and comfortable.
What you give up is the best in tech components, but for many people that's way down on their list of musts.
The GS F I drove rolled in at just under $88,000, so be sure to make your test drive extended so you can gauge all of these factors for yourself.
Chances are you'll be so enamored with the smooth ride and luxurious surroundings you won't give a rip about the slight shortcomings. I've enjoyed my Lexus for years, and I gotta believe you'll like the GS F, too.
The Details
2019 Lexus GS F
5.0-liter V8, 467 horsepower
8-speed automatic transmission
Rear-wheel drive
Gas mileage: 16/24/19 combined
MSRP: $84,350
As tested: $87,985
Car provided by manufacturer
Reviewed by Dom Testa