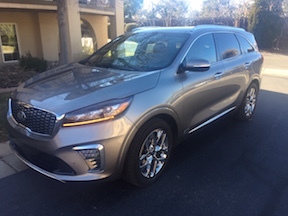 There are families out there – yours may be one – that longs for an SUV with three rows of seats. Yeah, there's a market for it, but it's funny (to me, anyway) that car makers are forcing a third row into mid-size vehicles.
Hey, if you need a bus, buy a big SUV, I say. But Kia is simply one of many brands that are trying to cater to budget-conscious families who want to haul around friends and gear. So, with that, I present to you the Sorento.
The Basics
South Korea's Kia Motors introduced the first generation of Sorentos in 2002. Back then it was more of a traditional SUV, built on a truck-style body.
It didn't necessarily make a huge splash, perhaps because of some safety ratings that (at the time) were iffy.
Beginning in 2010 Kia unveiled the second generation, with enough changes that the company actually considered renaming the vehicle. Along with the facelift came an increased attention to safety, to the point that the '11 Sorento earned a Top Safety Pick. Things were looking up.
And, for the first time, Kia was building the Sorento here in the U.S. at their new factory in Georgia.
Today we're well into the third generation, which began with a redesign in 2015. Rather than a traditional SUV you can pretty much label the Sorento a crossover/SUV.
The 2019 model shows off even more new design features, including a new front grill, headlamps, and third-row seating standard on all trim levels.
There are five of those, beginning with the base L, all the way up to the SX and SX Limited. I drove the latter for a week.
I was instantly attracted to the style and lines of the Sorento. No surprise, really, since I'm a big fan of the Hyundai Santa
Fe, and Kia and Hyundai are sister companies. That makes the Sorento and Santa Fe cousins, I suppose.
Regardless, this is a good looking crossover.
The Interior
Then you step inside. The engineers at Kia summoned all their lessons through 17 years of building the Sorento to craft an exquisite cockpit experience.
The seats are comfortable, with both heating and ventilation abilities in the front and heating available for the second row.
I liked the plush feel of the ride, and your backseat passengers will be happy with that their seats not only slide but recline.
You get that third row, as mentioned, but I'd never recommend this for adults, especially anyone over 6-feet. Yes, they'll market that this accommodates 7 people, but that way-back is really only suited for kids. Getting back there is not the easiest – but how often is it easy in other SUVs, right?
There's a good amount of storage up front for your stuff. Cargo space in the rear is seriously compromised by the third row, so if you can put that down you'd be better off. The power tailgate is a nice aid.
The Sorento delivers good visibility for the driver.
The Drive
Base models of the Sorento offer a 4-cylinder engine, which will save you a few bucks. I recommend you go ahead and step up to the V6. One of the changes this year with the V6 found Kia replacing the 6-speed transmission wit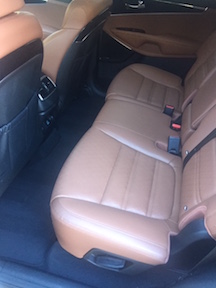 h a new 8-speed automatic, which functions smoothly.
The previously available 2.0-liter turbocharged engine has been discontinued, and the V6 mostly provides the pep you need.
Mostly, I say, because the Sorento has lost a step in acceleration, so it's slower than in years past, but to me it's not overly noticeable. You'll find your 0-60 time off just a touch, but the tradeoff was worth it.
Steering, handling, and braking are quite good, and for me the ride was nearly as smooth as some luxury SUVs I've tooled around in. Not completely there, but pretty close.
Overall I felt like this mid-size crossover/SUV handled like some smaller SUVs I've driven. You'll feel confident behind the wheel.
The Tech
First, kudos to the car makers for recognizing that we might like our tech, we still like simple, too.
The climate control buttons, for instance, are easy and intuitive without us having to jump through hoops – or rather, jump through needless mouse movements like other cars insist on.
I was grateful the easy touchscreen interaction. Plus, you'll enjoy both Apple CarPlay and Android Auto, which are rapidly becoming must-haves for many drivers.
You'll like the suite of driver aid/safety features as well, including a very good 360-degree camera. That's one of the features you wonder how you ever got along without.
All three rows have access to a combination of USB ports and even a 12-volt outlet for folks banished to the way-back.
The Bottom Line
It's been fun to watch Kia go from elbowing its way into even a discussion with car buyers to suddenly matching – and often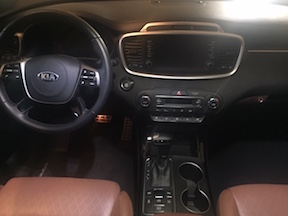 surpassing – some of the more veteran companies.
The Sorento is a solid player in the mid-size crossover category, borrowing some of the best from previous models and gradually introducing improvements in style, comfort, and technology.
From its gracious exterior to the comfortable, smooth ride inside, I think you'll appreciate this option. Certainly worth a test drive.
The Details
2019 Kia Sorento SXL
3.3-liter V6
8-speed automatic transmission
AWD (available)
Mileage: 19/24/21 combined
MSRP: $46,490
As driven: $48,020
Reviewed by Dom Testa
Vehicle provided by manufacturer