For the past several years I've placed the Lexus RX 350 in my top three of all cars reviewed — and that's a bunch of cars.
The thing is, Lexus has the opportunity to almost make this the perfect family vehicle. Almost. To me there's only one thing keeping it from a 9.9 (remember, there's no such thing as a 10).
More on that in a bit.
In the meantime, just know that if you're searching for a crossover/SUV that drives beautifully, comes loaded with luxury details, and looks terrific inside and out, this could very well be one of your top candidates.
The Basics
Lexus first introduced the RX a little over twenty years ago, and since its introduction in the U.S. the sales have been spectacular. Forbes claims its the best-selling luxury SUV.
You can find it in only two trim levels, the base and the F-Sport. However, both of these offer a variety of options, including your choice of either front-wheel drive or all-wheel.
There's also an option of adding a third row. My advice: Don't do that. The tiny, cramped space you get isn't worth the trouble of climbing back there or giving up storage space. Stick with the t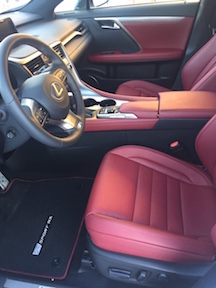 wo rows.
For my week of test-driving I had the F-Sport model.
With either trim choice you're getting a vehicle pretty tricked out with standard features, including a power liftgate, simulated leather interior, keyless ignition, rearview camera, and more.
The RX comes with a V6 engine that puts out just under 300 horsepower, along with a nifty 8-speed automatic transmission.
The lines on the car are stylish. Granted, it's hard to make one crossover/SUV look much different from another, but Lexus has successfully minted a winner in the beauty contest.
The Interior
For starters, the RX is spacious and comfortable. Each of your passengers will be happy, no matter how far the drive. In fact, I'd rate this vehicle as one of my top choices for long-distance trips.
The seats are well-designed, and the simulated leather looks great alongside the metallic or wood trim you choose.
Storage up front is generous, including a good-sized cubbyhole beneath the dash. Those are becoming increasingly popular in any segment.
Storage in the back is good, too, as long as you don't choose that third row.
Head- and leg-room in the second row are above average, even with the panoramic roof in my F-Sport.
Overall you're pretty much bathed in luxury, which is one of the reasons this vehicle has connected with the general public. Nobody is buying this crossover/SUV to take off-road. It's very much a suburban transport, and it wins because it looks good, feels great, and drives like a champ.
The usual Lexus smooth ride. The RX maybe loses a minor point or two in overall handling, but makes up for it in so many other areas.
Acceleration is good, steering is very good, and braking about average.
Because it's a mid-size SUV and not one of the behemoths out there, you'll appreciate the almost-nimble drive of the RX. And, with that medium size you'll have no problems maneuvering in traffic or fitting into a parking space.
The RX handles bumpy roads very well, cushioning the ride. And road noise is practically nonexistent, one of the quietest cars you'll find.
Vision is good, with only an average score for blindspot viewing. As with almost all SUVs you can blame the necessary pillars.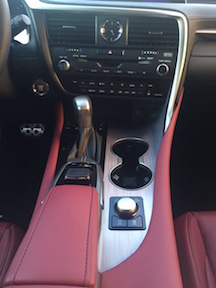 The Tech
Overall, I'm quite happy with the goodies Lexus doles out. You can even opt for the Nav system that bumps your display up to a generous 12.3 inches.
The panoramic roof is delightful, and audio quality is first rate.
Safety features are a big selling point with every Lexus, and even the standard features provide a healthy dose of safety tech and driver aids.
My upgrade included the panoramic view monitor which, once you try it, you'll never want to give up. And who doesn't love a car with that heads-up display to show your speed on the windshield?
Ah, but that one thing that keeps the RX from being almost perfect: the mouse interface.
Why, oh why, won't car makers give up on this technology? It seems that almost everyone I know gives it a thumbs down. The main problem is that it's just too distracting. All we want to do is make a change to the music or to the climate;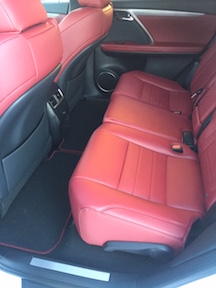 we don't want to have to jump through hoops.
So many luxury makers insist on it, however. I guess we're supposed to feel like it's "cool." It's not. It's a pain.
The Bottom Line
Other than my rant about the mouse interface, the RX 350 continues to be one of my top choices.
It caters to the buyer who wants a solid vehicle (even the doors feel solid as a tank) that still maneuvers well around town.
The ride is super comfortable and quiet, the interior is posh, and the overall driving experience is excellent.
Gas mileage is not spectacular with the gas-powered RX, but remember there are hybrid options available. I've driven those in the past, and they were terrific, too.
The RX is pricey, and yet it's the best-selling luxury SUV for a reason. Lexus knows how to deliver the goods.
The Details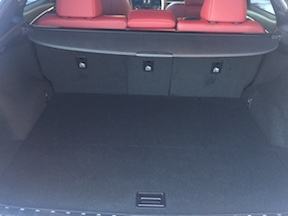 2019 Lexus RX 350 F-Sport
3.5-L V6
8-speed automatic transmission
Front-wheel or all-wheel drive available
Fuel economy: 19/26/22 combined
MSRP: $50,620
As tested: $61,315
Reviewed by Dom Testa
Vehicle provided by manufacturer