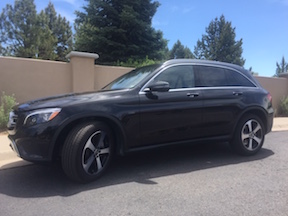 I had to sit and ponder my feelings about this luxury SUV. I'd just spent a week driving it and inspecting it, but mostly trying to figure it out.
Here's what I came away with. The 2019 Mercedes GLC 350e is that person from high school that you think you should be in love with. They're stylish, they're sophisticated, and they have all of these traits that seem desirable.
Then you go out with them a few times and you realize you're better off as friends.
Say hello to my new friend, the GLC 350e.

The Basics
This is a compact luxury SUV that features a traditional 2-liter turbo-charged gas engine. But that's just the start; it's also a plug-in hybrid, so there's also an electric motor that contributes 85-kw of power.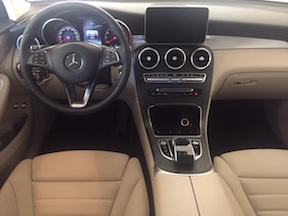 Together they produce about 315 horsepower, which is actually a bit more than the non-hybrid GLC 300.
The battery pack for the motor is tucked beneath the cargo area in the rear.
When fully charged, the motor delivers about 9 or 10 miles of driving, and that little boost is enough to deliver an impressive 56 MPGe. Yet when you look at the gas engine alone, it's a more down-to-earth 25 MPG.
A full charge can be accomplished in less than 3 hours if you're using a Level 2 charging station. If, however, you plug it into your home's standard outlet it'll take about twice the time.
From the outside the GLC 350e has no real desire to look like an SUV. It's adopted more of a coupe look, with gentle lines and a laid-back style.
It's attractive, no doubt — but we're back to that good-looking person in high school, remember? What's it like to live with them?
The Inside
Well, it's a Mercedes, so you're going to enjoy the ride itself. Comfortable seats and an accommodating interior swaddle you in luxury, so no problems there.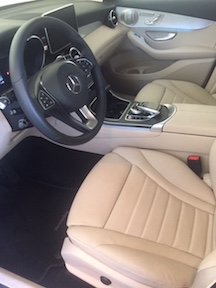 It's roomy, for one thing, and both front and rear passengers will be able to spread out and enjoy the comfy ride.
All the interior materials are first-rate. My test vehicle came with a combo silk beige/black leather setup with a natural grain black ash. The result is visually appealing and impressive.
Storage up front is about average, which actually disappoints. The cargo space in the back is decent, marginally hampered by the battery system below. But not enough to cause a glaring decrease. Plus, the rear seats fold, improving storage space when needed.
The Drive
This struck me as a Jekyll and Hyde experience. Overall the GLC 350e has good acceleration, better, in fact, than it's non-hybrid sibling.
Yet I noticed hesitation sometimes, especially right after shifting into gear. Again, not enough to cause an issue, but noticeable.
There's also a built-in feature known as the Haptic Accelerator Pedal. Essentially its role is to keep you from being a gas hog.
This gas pedal provides feedback to alert you when you're overdoing it a bit. The goal is to get you to do your part in conserving fuel. There are several interesting articles about the idea and the implementation behind this feature. Here's one you can check out.
Thumbs up to the GLC for its smooth and exceptionally quiet ride. I didn't notice any extreme bumps during the ride, although the brakes tended to be just a little touchy. I lurched forward a couple of times and found myself being mindful about brake pedal pressure.
Maybe this is what made me give up the notion of marrying the GLC. The looks are quite nice, and the ride is fine. But the tech?
Frustrating, to say the least. Mercedes will not listen to customers who clamor for a simpler way of accomplishing the simplest things.
For one thing you get both a control knob and a touchpad, a redundant setup that I guess is supposed to make you feel like you have options. Blow it all up, I say, and give us easy-to-use knobs and buttons.
The screen can also be confusing, with different looks for different functions. Why?
I'm told that Mercedes will address a lot of this with the 2020 model. I hope so. It's way too nice of a vehicle to cause irritation like this.
Apple CarPlay and Android Auto are available, but they're both paid upgrades if you wanna play.
The Mercedes has a full line of safety tech, all of which is pretty standard and well done.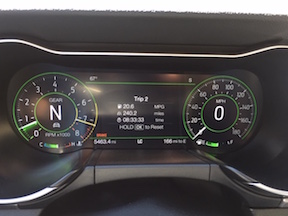 The Bottom Line
I wanted to love the GLC 350e, and at first glance in my driveway I thought we'd be good together.
And while it's a beautiful and luxurious ride, there were just a few too many quirks that kept me from falling head over heels. When you factor in the cost (which, with options, was close to $70k), it just gave me pause.
I'm looking forward to seeing what Mercedes does with this plug-in hybrid moving forward. I get the feeling they're as anxious as I am to make things right.
The Details
2019 Mercedes 350 GLCe 4Matic
2.0-liter turbo-charged gas engine
85-kw electric motor
7-speed automatic transmission
4Matic All-wheel drive
56 MPG3 electricity and gas
25 MPG gas only
MSRP: $50,650
As tested: $68,145
Reviewed by Dom Testa
Vehicle provided by manufacturer