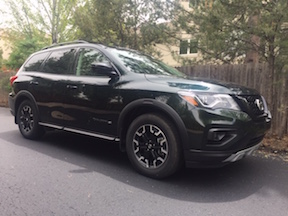 The Pathfinder has been around in one form or another since the mid-1980s, originally a two-door vehicle that resembled a truck more than an SUV.
Since then it's found its way through a few generations (the last one about 7 years ago) until arriving at today's mid-size SUV workhorse. And these days the Pathfinder is built on the same platform as Nissan's Altima and Maxima, so it looks and behaves less like its truck ancestors.
Though the category is crowded with more-than-worthy competitors, Nissan has always managed a loyal following of Pathfinder lovers, and this 2019 version does nothing to disappoint those fans.
The Basics
Even though the current generation debuted for the 2013 model year, Nissan put the Pathfinder through some major upgrades just two years ago. There isn't a whole lot new for '19 and, frankly, it could stand a few, mostly in the tech area. More on that later.
There are four trim levels to choose from, mostly of the alphabet variety: The base S, the SV, the SL, and the Pla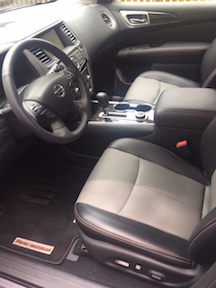 tinum. Even the S has a fair supply of standard features, but by the time you've worked up to the Platinum you're in the realm of ventilated seats and an entertainment system for the rugrats in the back.
All of the versions are powered by a 3.5-liter V6 and a CVT automatic transmission. The Pathfinder sports a robust 284 horsepower.
This is a three-row SUV, but don't get too excited about hauling all your adult friends around town. That third row is maybe good for smaller children, and even they will gripe about the space.
Front-wheel drive is standard, but few in Colorado will pass on the available all-wheel drive.
Externally the Pathfinder has a sharp, modern look and feel. I found it to be one of the more attractive vehicles in the parking lot.
The Inside
Both front and second-row passengers will be pleased with the roominess of this SUV, although (as mentioned) not so much in the way-back.
While I had no beefs with the interior, there also wasn't anything that made you especially excited. Because it's in need of some minor updating when it comes to interior styling, I'd call it functional.
Everything is laid out well, and you get (Hallelujah!) traditional knobs and buttons for many of the controls. More, please! More of this, everyone!
The dashboard, too, has a pleasing and familiar feel to it. Again, nothing fancy.
The seats are comfortable, visibility is good, and the experience in the cockpit is average to above-average. The 2nd row seats slide, which is nice.
Storage upfront is good, including a nice tray in front of the shifter. This is a feature becoming more common, and that's a good thing. We all have a bunch of crap that we haul around these days.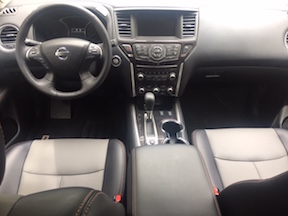 Rear storage depends. If you have the third row up, you won't be able to cram much back there except your groceries. But folding both the 2nd and 3rd rows provides a generous space. The only knock here is that the seats don't fold completely flat.
The Drive
The Pathfinder's engine is a smooth-running V6, so your drive will be quite good. The automatic transmission shifts well, and the overall experience was pleasant.
At times I felt the steering was a bit jumpy, or – as I said in my original notes – awkward. But nothing extreme.
Braking and handling are about average, and car noise is kept to a minimum. Even on the highway I was impressed with the quiet ride of the Pathfinder.
And sure, this is an SUV, but I don't know if it would be my first choice to go off-road. Clearance is about 7 inches.
Towing, however, is another matter. Properly equipped, the Pathfinder (in all of its trim levels) will tug up to 6,000 pounds of recreation.
The Tech
This is the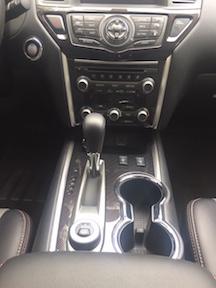 area where the Pathfinder needs to play some catch-up with the competition.
Sure, everything works fine, and the simple buttons and knobs are always appreciated.
But the interface seems outdated. Apple CarPlay and Android Auto are not supported right now. I had a funny moment when I plugged in my phone and on the screen it said "iPod."
iPod? Who even SAYS iPod anymore?
I went with a Bluetooth connection for my week in the SL model, and had no problems.
Stepping up to the Premium options package delivers a nice Bose 13-speaker system, and I had zero complaints with the sound.
Driver aid and safety features start with the base S model, including forward collision warning. As you progress upward through the trims you find even more. My SL had a 360-degree view parking system, as well as a motion-activated liftgate.
The Bottom Line
Nissan has well over 30 years of experience with their Pathfinder, and while it satisfies in most areas (roominess, comfort, solid drive) it seems to come up just a tad short with tech features.
Although there are better choices if you really need that third row, this SUV is more than capable of handling your day-to-day errands and family responsibilities.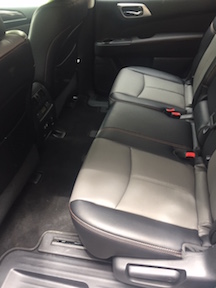 For the price (my SL model with a couple of options packages rolled in at just over $44k), this is a good choice for Colorado.
The Details
2019 Nissan Pathfinder SL
3.5-liter V6 engine
284 horsepower
Continuously variable automatic transmission
All-wheel drive
Fuel economy: 19/26/22 combined
MSRP: $39,610
As tested: $44,455
Reviewed by Dom Testa
Vehicle provided by manufacturer