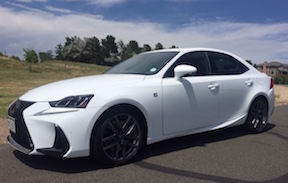 For years Lexus has built its brand on sophistication, luxury, and comfort, and that's a pretty nice platform.
So while they might have the chops to insist on playing in the sports sedan segment, no matter what kind of oomph they install under the hood they'll always remain true to their roots.
The IS350 wants to be a bad boy, but it just can't quite shed its pretty boy heritage. Is that a bad thing?
You'd have to decide. I spent a week in the IS350 and felt like the two sides grappled with each other. Even the name, IS, can't run from its origin, which is Intelligent Sport.
You'll never hear Mustang or Corvette try to wear an Intelligent label. They just want to crush you.
None of this is meant in a derogatory way — for Lexus, Ford, nor Chevy. They all have their strengths, and that includes the IS.
The Basics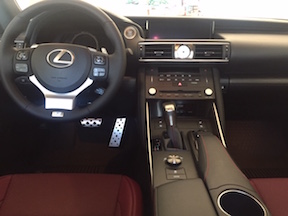 The IS350 falls into the category of small luxury sedan, capable of carrying 5 passenger. It's only available in one trim level, but there are multiple options you can take advantage of to mix and match.
If you opt for the rear-wheel drive, you'll get an 8-speed automatic transmission. Go the all-wheel drive route and it becomes a 6-speed automatic.
Both come with a 3.5-liter 6-cylinder engine producing 311 horsepower.
The standard features on the IS are generous, including a rearview camera, 18-inch wheels, adaptive cruise control, and a 10-speaker premium sound system paired with a 7-inch color display.
A larger screen is part of the Nav option upgrade.
Outside the IS350 has been reimagined with a sportier, slightly more aggressive appearance.
The Inside
As mentioned, as much as Lexus wants to imbue the IS with a tough mug, once you're inside it can't hide from its luxury heritage.
Quality materials are abundant, providing a clean, comfortable appearance. I liked the stitching around the seats and dash.
After ducking to get inside (it's a relatively low-slung vehicle) you won't be afforded a ton of space. I felt a bit confined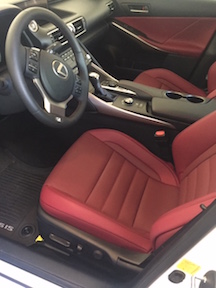 at times, and in the driver's seat I continually banged my foot against the side wall when reaching for the accelerator.
Controls are easy enough to see and reach, if a bit confusing. More on that later.
Passengers in the back will be fairly comfortable, unless they're on the tall side. And the middle passenger in the back will have to contend with the transmission bump.
Storage up front was disappointing. The center bin between the front seats is paltry, and the car doesn't sport the extra cubbyholes and shelves we're starting to expect.
Trunk size is also not impressive. Of course, this car wasn't made to be a pack mule.
The Drive
Here, of course, the Lexus shines. I enjoyed the sporty drive, even if the initial acceleration wasn't as robust as I expected.
I imagine a turbocharged engine would make a huge difference here. As it is, I'd label it about average.
Still, I was able to get the IS350 out on some bendy roads, and it definitely has fun with those. Steering, handling, and braking are all above average.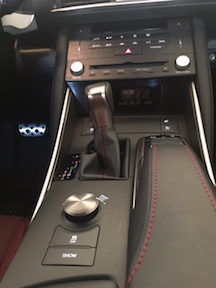 Plus, it just feels good to drive. You probably know what I'm talking about.
The Tech
There's a mix of good and bad here. Lexus is again generous with standard features when it comes to safety and driver aids.
The rearview camera, automatic emergency braking, and lane departure warnings are just part of that standard package.
Integration for smartphones is lacking, and is quite puzzling for many of us. Lexus has been notoriously late to the Apple CarPlay and Android Auto party. You'll start seeing it in some models, but not all.
The F Sport package will upgrade your screen and add a Mark Levinson 15-speaker system.
Sadly, the controls for much of this involve one of those horrible joysticks, which can be finicky. I was constantly overshooting my target, going back too far, and then overshooting again.
Is this really better for people driving in traffic than simple knobs and buttons? The answer is no. But no one with luxury car makers is listening.
I'm a Lexus owner, so I'll always be slightly biased toward the Toyota luxury brand.
I think the IS350 has a lot going for it, especially in terms of looks, interior style, and comfort. The drive is good, too.
The drawbacks include slightly underwhelming acceleration, minuscule interior storage, and a sometimes-wonky joystick.
It's a very competitive segment, and I expect the designers at Lexus to pick up their game with the IS very soon.
The Details
2019 Lexus IS350
3.5-liter V6
311 horsepower
6-speed automatic transmission
All-wheel drive
Fuel economy: 19/26/21 combined
MSRP: $44,095
As tested: $53,647
Reviewed by Dom Testa
Vehicle provided by manufacturer