As we like to say on the radio show, People are different. That's never more true than when we choose the cars that catch our eye. Some opt for bigger and boxier, while others prefer smaller and sleeker.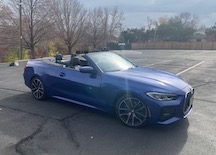 Then some people, I guess, like front grills that look like a beaver.
Okay, so I'm kidding, and it's not that bad. But there's something about the face of the newly re-designed BMW 4-Series convertible that's . . . well, different. For most people, that won't matter a bit.
It could also be the placement of the license plate. It has nowhere to go in front but to squat in the midst of those two front teeth. Maybe this car is a better option for people who live in states that don't require a front plate?
Anyway, moving on. The 4-series is mostly built on the design of the venerable (and damned near perfect) 3-Series. Same powertrain, for example, and much of the interior design. But there are enough tweaks and additions to give the 4 its own personality and flair. And lord knows you'll get where you're going quickly, if that's what you desire.
The Basics
We might as well just say it right off the top (pun intended): The switch from a retractable hardtop to the convertible's new soft top was a great call.
For one thing, it looks good. I know, some people are snobbish about soft tops, and that's fine. But the new 430 convertible looks good, and part of that is in the design changes to accommodate the softer lid.
Previously, finding the space to fold that big hunk of metal meant a bulging trunk space. Now, not so much. Plus, more importantly, BMW shaved about 40% off the top's weight by making the switch. It was a good decision all around.
The car is powered by a twin-turbo engine that puts out about 255 horses. My test vehicle added the M package—which is always a great call if you can pony up the extra bucks.
The convertible runs on rear-wheel drive, so it may not get used every day in Colorado, but hey, it's not like roads are totally ice-covered that much.
The Inside
As mentioned, the car gets most of its heritage from the 3-Series, and that's a good thing. When redesigning the 4, they stretched it out a bit, so the '21 is larger. There's good room inside; granted, your backseat passengers won't be extending their legs much, but if you're hauling around a lot of passengers you're generally not buying a sporty two-door rocket.
Look, this is a luxury car, so do I even need to gush about the look and feel? The materials are excellent, the seats quite comfy (and very adjustable), and the layout of the dash and controls causes no angst, thank you.
And the car has a robotic arm that delivers the seatbelt to you so you don't have to play the part of a contortionist to buckle up.
Thanks to the new soft top, space in the trunk has increased substantially over earlier models.
The Drive
It's sporty and fun. The power is evident from the moment you put it into drive, and the acceleration is aggressive enough that you'll never feel shy about merging onto the highway or needing to make a quick pass.
Having said that, there are plenty of cars with big power that end up making you almost drive defensively, if that makes sense; you have to manage the power.
That's not the case here. While the 430i is ready to run, it does so in a completely controlled sense, so that it's practically effortless. And there's something to be said about the confidence an engine of this nature imbues in a driver.
Handling is not only excellent, but it's enjoyable. I almost longed for a twisty road. You may or may not understand exactly what I'm talking about.
The Tech
Here's where the 430 starts to pull away from the pack. All the usual goodies are available, including Apple CarPlay and Android Auto capability.
But there's a vast array of safety features, too. Front collision warning, blind-spot detection, and lane departure warning. You can add things like the 360-degree camera (yes, do it) and parking assist.
Check out the video system you can pick up, too, which records small video clips front and back, handy in case of an accident.
An 8.8-inch touchscreen is standard, while a larger 10-inch version is an option. While BMW's iDrive infotainment system delivers a bunch of features, it can sometimes make the screen a bit confusing. I spent a fair amount of time trying to decipher what I was seeing.
The Bottom Line
Remember when you were younger, maybe just starting out in your career, and you were forced to drive a six-year-old Honda Civic to make ends meet? You always said that when you made it, you'd splurge and get something fun to drive.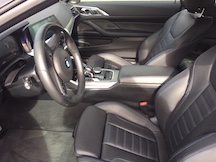 Here it is. The 2021 BMW 430i Convertible was practically designed to be a "reward" car for people. No, it's not the practical family vehicle, and it's not meant to haul your kids off to daycare or hockey practice.
It's made for Me Time. And it delivers on that promise.
The Details

2021 BMW 430i Convertible
2.0-liter twin-turbo 4-cylinder
255 horsepower
8-speed automatic transmission
Rear-wheel drive
Fuel economy: 24/33/27 combined
MSRP: $53,100
As tested: $67,220
Reviewed by Dom Testa
Vehicle provided by manufacturer