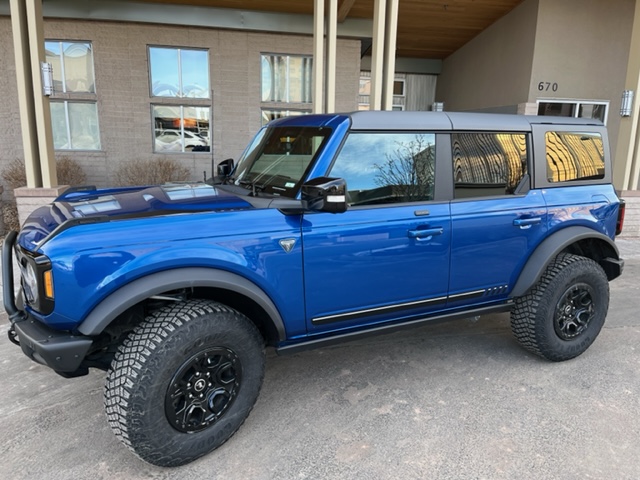 For thirty years, Ford produced a sport utility vehicle called the Bronco, built to compete with Jeep. The two companies maintained a spirited rivalry until 1996, when Ford pulled the plug.
And, for the next 25 years, the Bronco simply lived on as a legend as the F-150 took over the crown.
Ah, but now the Bronco has come roaring back with the new, sixth-generation version popping up in 2021. Older fans, perhaps somewhat motivated by nostalgia, clamored to see one up close, while younger people—who'd never experienced the brand—were curious what the fuss was all about.
Make no mistake, this is not the same vehicle that had become way too associated with O.J. Simpson. (Sorry, Ford.) A quarter of a century seems to be enough time to get that sour taste out of the public's mouth, replaced with a dashing new off-road machine that's ready to fight to regain its championship belt.
The Basics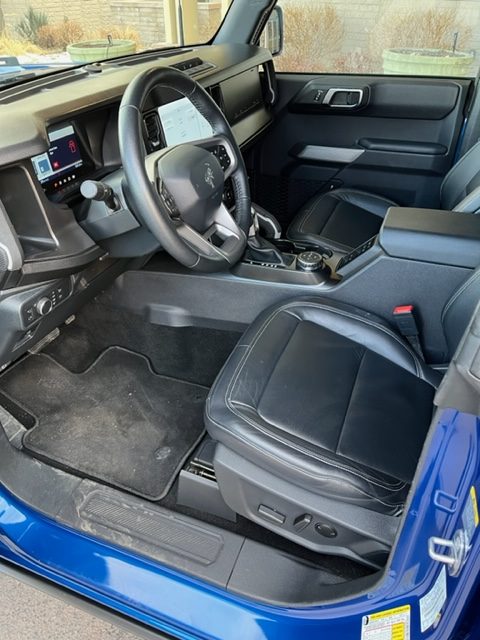 Let me put it this way: If you can't find a configuration of the Bronco that blows your skirt up, that's all on you. Ford has rolled out a whopping seven trim levels to choose from—and that doesn't even count the Bronco's little sibling, the Bronco Sport.
Want two doors? No problem. Gotta have four? Sure, check the box. But whatever you do, check out the package they call Sasquatch (love that name). It's got a bunch of added goodies, including 35-inch all-terrain tires, electronic locking front and rear axles, and some badass Bilstein shock absorbers. And, unlike other brands that reserve their coolest packages for the higher-end trims, Ford will let you add the Sasquatch package on any of the trims. That's a direct shot across the bow at Jeep, where the much-heralded Rubicon package is only available with select trims. And, yes, Sasquatch even comes with the manual transmission option.
It's obviously popular; Ford claims it's been requested by half of the folks ordering the Bronco.
Your power plant choices are either the 2.3-liter turbo four cylinder, which cranks out about 300 horses, or the 2.7-liter twin turbo V6, which delivers an additional 30 horses.
Outside, the Bronco harkens back to its glory days, although they've somehow managed to make it look both rugged and somewhat futuristic. Or is it simply that retro is sorta futuristic? The grill/hood combo is just flat-out tough, giving the appearance that the vehicle would have no problem climbing over your car if you're in the way.
The Inside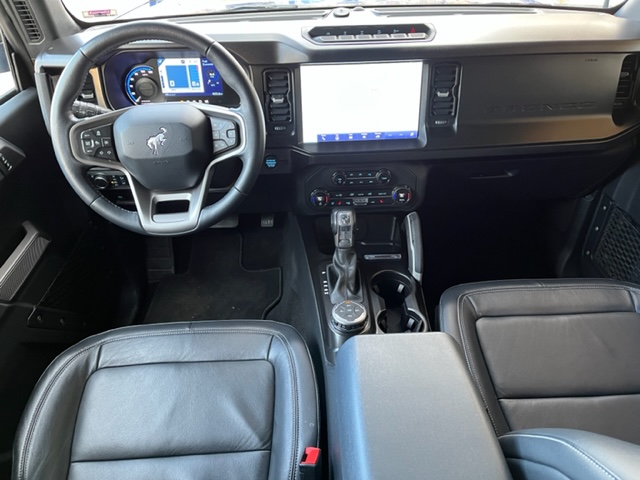 The engineers worked hard to make sure the controls inside the Bronco are functional, but they also managed to make them pretty snazzy. I loved the layout of the dash, and everything is intuitive and simple.
You need to get used to some of the controls moving from the door to the center console—like the window controls—but that's because the doors of the Bronco can come right off. And once you do that, you'll be happy to know you can easily store all four of them in the back of the vehicle.
(That also explains why the side mirrors are mounted on the hood.)
The Bronco comes in both soft-top and hard-top. The soft-top will fold back, a la your basic convertible, while the hard top comes off in chunks. Which means you can remove the doors AND the top and feel the breeze not only in your hair but across your whole body. What a hoot! It's really crying out to go off-road, my friend.
As for the seats, I was pleasantly surprised at how cushy and comfy they were.
The Drive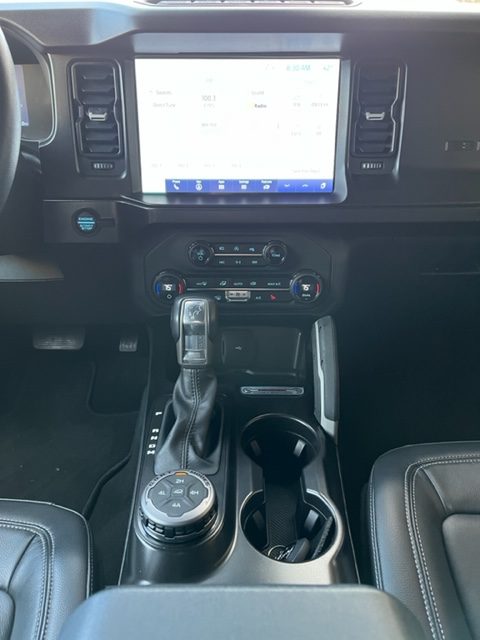 Did I mention you can take this off-road? In fact, I don't see a lot of reasons to buy the Bronco if you're not going to have that kind of fun with it. This is not a vehicle built to sit parked at the mall.
Because of that, you'll never confuse the drive with a Lexus sedan. Having said that, however, I have to give mad props to the design team. Thanks to its independent front suspension, the Bronco won't jolt and jar you as you drive down to the grocery store.
On top of that, the standard engine (the turbo 2.3) has enough oomph to get you out of tight spots and to help you merge onto the highway. The twin-turbo V6 has even more pep. All of this is gravy, really, for a vehicle that's not trying to impress you that way.
The Tech
First things first: You gotta love an off-road vehicle that plasters the letters G.O.A.T. right there on the gear shifter. If you don't know, that stands for "Goes Over Any Terrain." Ford sees no reason to pussyfoot around when it comes to getting down and dirty.
You'll be happy to know that while they're happy to channel the 1960s classic, this all-new Bronco is most definitely aligned with the times when it comes to gear. It comes with Apple CarPlay and Android Auto standard, and, even better, it has wireless compatibility. You can connect with that messy cord.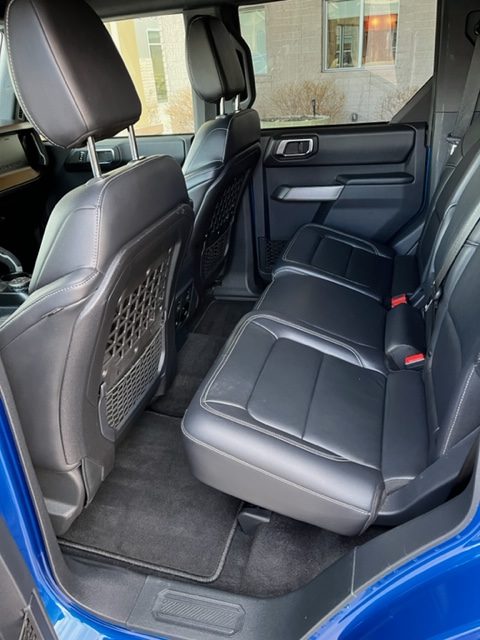 The standard display screen is 8 inches, but my test vehicle rocked the 12-inch version. (Get the big one; you deserve it.) You get most of the in-demand safety features, and that includes the 360-degree camera, which is sharp and clear. I swear, I'm getting spoiled by those things and can't imagine ever going back to a vehicle without one.
There's also a large array of off-road tech features to excite you, too. Be sure to experience One-Pedal Driving, which not only provides some safety, but probably injects a bit more confidence, too. All you need to use is the accelerator, and the One-Pedal feature will sense when you let up, at which time it applies the brake for you.
There's also Trail Turn Assist, which uses specific braking on one wheel to help you pivot on those hairy trails.
The Bottom Line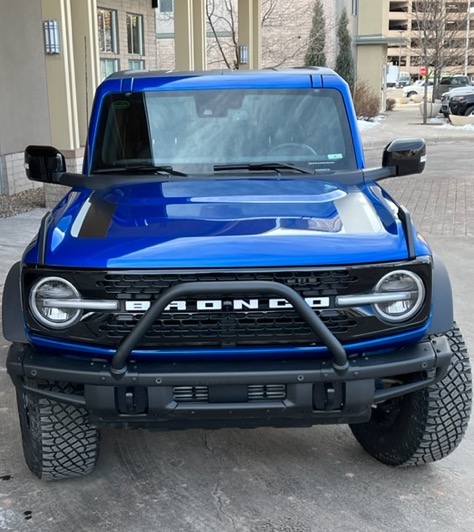 For a vehicle that's been off the market for a quarter of a century, it would've been easy for Ford to just slap a Bronco nameplate on another run-of-the-mill SUV and fool people into simply buying nostalgia.
Nope. They went all-in to design a beast that will heartily compete off-road with Jeep, 4Runner, and the other big shots. It looks cool, it drives well, and it has all the bells and whistles that Colorado (and other) adventurous drivers like to have at their fingertips.
I had a blast in it, and I think you will, too.
Reviewed by Dom Testa
Vehicle provided by manufacturer