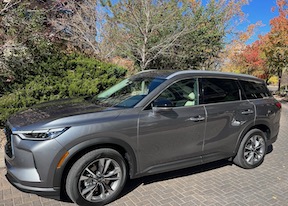 The Infiniti line of cars was created to be the posh side of Nissan, just as Lexus is the fancy division of Toyota. So what happens when you take some of the components of the Nissan Pathfinder and spruce it up a bit, slap some makeup on it, and send it out in a nice pair of designer jeans?
Well, you get to brand it an Infiniti SUV, that's what.
The QX line of luxury SUVs has that responsibility, and for the most part they do it well.
There are some, however, who feel like they've made it nice . . . but not exactly nice enough to go bumper-to-bumper with the likes of BMW, Audi, and Mercedes. Car and Driver, for instance, said it comes across as "a really nice Nissan."
Okay, so that's funny, and perhaps even true in some circumstances. But I've driven a few Pathfinders, and the QX60 is certainly a significant upgrade.
Not a lot has changed since the '22 version, with the exception of a few exterior touches, three years of maintenance (oil changes, inspections, and tire rotation), and a wireless charging pad. But it was already a pleasure to drive, and that hasn't changed.
The Basics
The QX60, the big sibling to the QX55 (which I reviewed here), is a 7-passenger, three-row SUV.
Now, granted, you wouldn't want to be a full-grown adult sitting in that third row. But it's still functional, and with the ability of the second row to slide forward, it doesn't require your kids to do contortionist tricks to climb in.
It runs on a smooth, 9-speed automatic transmission, and purrs along on nearly 300 horsepower from its V6 engine. All-wheel drive is available, while front-wheel drive is standard.
When it comes to looks, this machine has it. Great lines, very sleek, and the parts just . . . well, blend. You may or may not understand what I mean by that, but some SUVs just seem to be cobbled together. The lines on the QX flow perfectly. The wraparound tail lights ooze cool.
Personally, I wouldn't choose the 20-inch wheels, but people are different.
There are four basic trim sizes, from the low-end Pure (cute name), through the Luxe (which I drove), the Sensory, and the top-of-the-line Autograph edition.
The Inside
I used to own an Infiniti, and one thing that stood out to me was the interior quality. The brand made its name with sedans that really stood out from their nearest competition, and their SUVs today are first-class, too.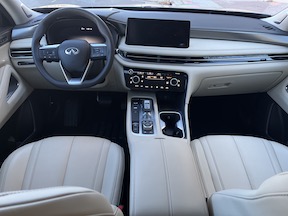 The seats are comfy and offer eight-way power adjustments, so you're sure to find a setting that suits your butt.
You'll feel all fancy with the panoramic moonroof, too.
The dashboard layout is intuitive and pleasing, and—this is critical—not overloaded with spinning knobs. We all prefer buttons, ya know, and Infiniti gives us buttons. Thank you.
The touchscreen infotainment screen measures a robust 12.3 inches and it looks good, too. My recommendation is to always opt for the Head-Up Display, even if it costs you a bit more. I'm convinced this safety/convenience feature will be standard on all cars within ten years. It's that helpful.
Storage capacity is excellent when you drop that third row. Basic storage up front was also good, with a deep bin between the seats and even more space beneath the center console, which acts like a bridge.
One thing the QX has going for it over many others is the super quiet ride. Whatever the engineers have done to deaden the outdoor world, I say huzzah to them.
The Drive
Okay, if I have to take off a point here or there, it would probably be with the driving performance. While not bad, it doesn't shine, compared to the competition.
The acceleration leaves a bit to be desired, although you'll find the QX60's zero-to-60 scores about average. I found it wasn't the best off the line at traffic lights, but some suggest disabling the stop-start feature to help improve that.
Handling is good, not great, and steering is also middle of the pack.
The Tech
Good scores on this count. The QX60 handles both Android Auto and Apple CarPlay, but CarPlay is wireless. It worked like a charm the entire week I drove it.
That new wireless charging pad also kicked butt. Nothing beats just tossing your phone onto the pad and watching the power-up light come on.
All the trim models come with onboard Wifi, and fancy-schmancy Bose entertainment systems are an option.
The sound was quite good, the displays crystal clear, and everything worked perfectly. I mention that because I test drive a LOT of vehicles and it's rarely the case.
You'll pretty much find all the safety features and gadgets we're growing to expect.
The Bottom Line
What it almost comes down to is the fact that you'll buy this particular SUV for its interior quality, its exterior good looks, that third row seating, and good tech features.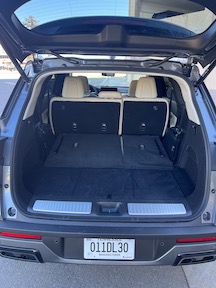 You won't necessarily buy it for its driving and handling capabilities—but I've yet to find someone who's shopping for a three-row SUV and also longing for sportiness. Just how hip do you have to be hauling those kids around, right?
One last thing in the QX60's favor: It does not badger you with constant dings and warnings. Thank you, Infiniti, for treating me like a grownup.
The Details
2023 Infiniti QX60 Luxe
All-wheel drive
295 horsepower, 3.5-liter V6
Nine-speed automatic transmission
Three-year scheduled maintenance included
Mileage: 20/25/22 combined
Base MSRP: $57,250
As tested: $60,845

Reviewed by Dom Testa
Vehicle provided by manufacturer