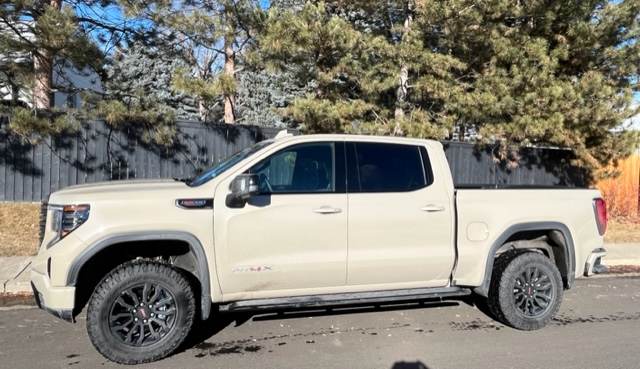 The folks in the management offices at GMC have known for years that their work was always going to be cut out for them. Competing in the truck world against juggernauts like Ford's F-series and the Ram 1500 must cause sleepless nights. Even the Toyota people, with their Tundra line, present problems.
So what's a venerable company like GMC to do? The answer: Redesign, refine, and keep plugging away. That's what they've done with the Sierra pickup.
The Sierra 1500 stumbled a bit out of the gate with its new look in 2019. Reviewers dogged it for an uncomfortable ride, and for coming up short in some of the interior design elements.
But nobody at GMC took their ball and went home. They rolled up their sleeves and went right back to work. Knowing how much Americans love their pickup trucks—heck, the top three best-selling vehicles in the country fall into the category—there's a big payoff when you get it right.
The Basics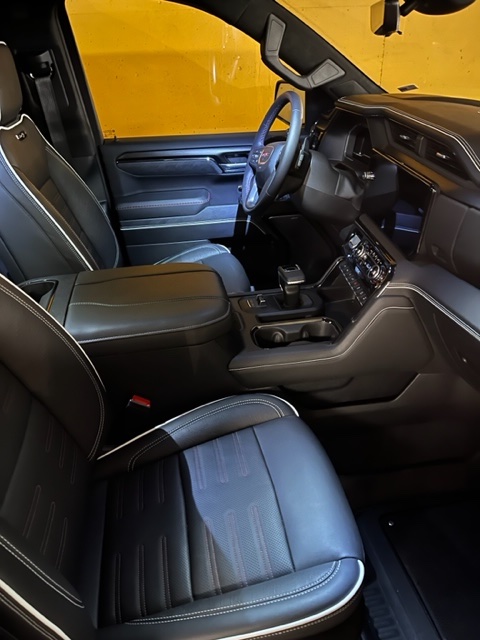 What's one way to make your vehicle attractive? Offer a lot of choices. The Sierra gives you options galore. Examples?
There are eight trim levels—too many, almost, to even list here.
Get it in a single cab, a double cab, a crew cab with four doors. Want a shorter bed? No problem, just opt for the 5.8-foot version. Oh, you need more than that? GMC will let you choose the 8.2-foot style.
What about engine types? Yeah, you have choices there, too. A 310-horsepower turbo four-cylinder, a Duromax turbodiesel, and a 5.3-liter V8.
Still not enough? The test vehicle I drove came with the whopping 6.2-liter V8, which pumps out 420 horses.
So four different engines, two choices in transmission, and either front- or four-wheel drive.
My test model came with the 10-speed automatic transmission. If you're crazy about off-roading, look at the AT4X AEV edition. If you can get past the alphabet soup, you'll enjoy steel bumpers front and rear, along with skid plates to protect almost the entire underside.
The Inside
This is where earlier versions of the Sierra got dinged. The engineers have put more emphasis on improving this component. They may not have entirely caught up to the leaders in this class, but it's better.
Let's start with space. There's a lot. I mean, a LOT. Even in the back seat (if you have the right trim), three grownups can sit comfortably. That includes both head and leg room.
Controls are all laid out well, and—importantly—easy to access. That's not a given anymore.
As for the quality of the materials, it's a case of getting what you pay for. Step up in trim level and the materials follow along, which is true with most brands.
My 1500 AT4X sported full-grain leather seats, a microsuede headliner, and 16-way settings for the seats, which also provide a massage feature. Heated, naturally, as is the steering wheel. And the front seats are ventilated, as well.
I found the seats comfortable—as long as I was parked. Let's talk about that next.
The Drive
This is a large truck, and it's certainly not made for Saturday morning trips to Bed, Bath, and Beyond. The Sierra is all about hauling and towing, perhaps with some off-road fun, too.
I was reminded of that as soon as I powered up that 6.2-liter V8 and began lumbering down Colorado Boulevard. It's not exactly nimble.
It's quick enough, that's for sure. There's no hesitation off the starting line. The steering isn't deft, but was responsive. GMC has paid a lot of attention to handling lately, and it's certainly an improvement from a few years ago.
Shifting between those ten gears is smooth, and braking was impressive. High marks for both.
Towing capacity, if that's your thing, is now over 13,000 pounds, which puts it third in the class of half-t0n pickups.
The Tech
Now we're talking. The Sierra has made some leaps and bounds in an area where it once trailed. I enjoyed the tech elements considerably.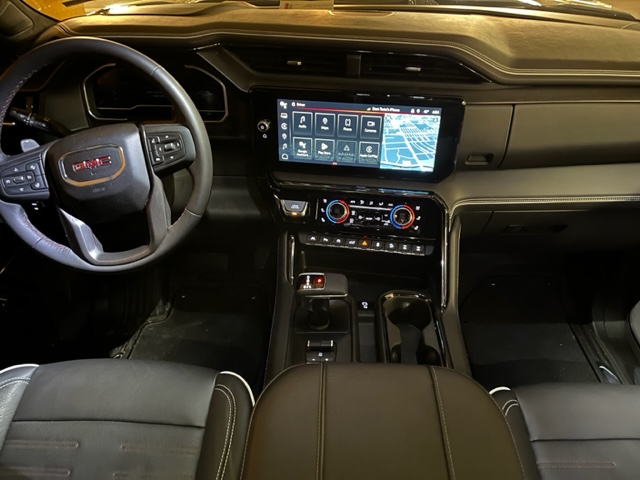 Start with that large, 13-inch touchscreen. When my Apple CarPlay connected—wirelessly, even—it was impressive. Android Auto works with it, too. Some models come with a wireless charger, which is nice.
A Google-powered voice recognition system allows you to do a variety of tasks, from switching the radio station to adjusting the heating and cooling, and more.
The 12-speaker Bose system in my test vehicle got a hefty workout during my drive from Denver to Colorado Springs, and it sounded great.
Other toys include adaptive cruise control, a terrific camera system for seeing all around you, and my latest favorite gadget: The heads-up display on the windshield. GMC takes good care of you with the tech.
The Bottom Line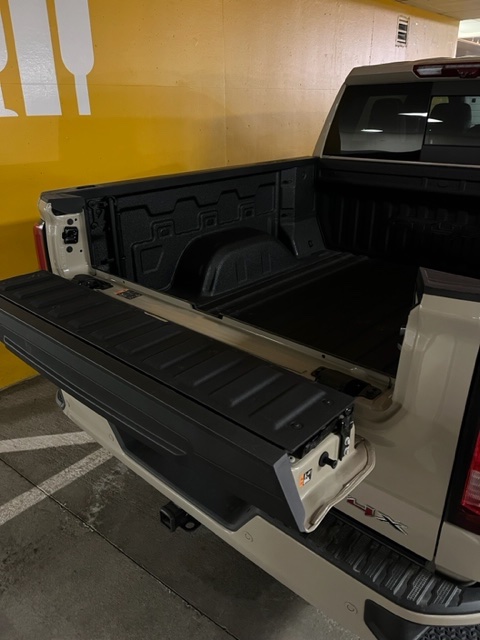 With all of the trim choices, all of the engine choices, and loads of other options, there's a good chance GMC can configure a pickup to meet your needs.
Fuel economy is certainly something to keep in mind, and with a vehicle this size, it obviously doesn't shine in this department. Combined between city and highway, it averages around 15 mpg.
But for someone looking for a capable off-road/towing machine, one with some solid get-up-and-go, the Sierra is worth a look.
The Details
2023 GMC Sierra 1500 AT4X
6.2-liter V8 engine
420 horsepower
10-speed automatic transmission
Three-year/36,000 mile limited warranty
Five-year/60,000 mile powertrain limited warranty
Mileage: 14/17/15 combined
Base MSRP: $77,500
As tested: $80,935
Reviewed by Dom Testa
Vehicle provided by manufacturer