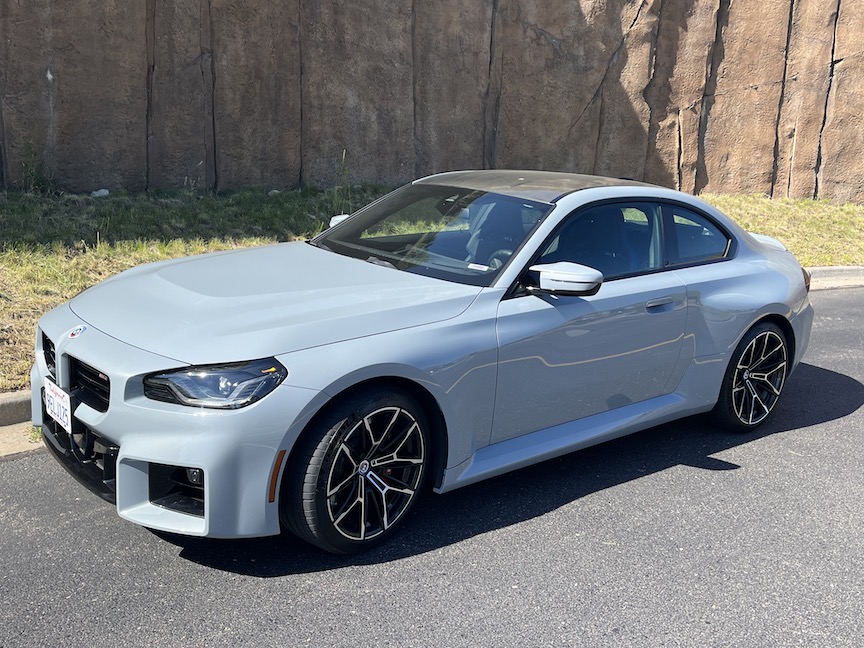 You've seen countless BMWs on the road, and perhaps your eye has been turned by one with an "M" on the nameplate. "What the heck is an M?" you may have even muttered.
Technically, it stands for "Motorsport," and it was born from the company's racing division.
In a nutshell, it's BMW's way of adding extra driving performance into their already sporty cars. Some might say they're designed for adrenaline junkies, but that's unfairly limiting them to a small niche of buyers. You don't have to be a Bandimere Bob to enjoy the added punch of an M.
The M2 may be the smallest of the performance series, but don't let that fool you into thinking it's some sort of weak sauce. Oh, no, not by a long shot. In fact, it turned into one of my favorite cars to drive in the last few years.
The Basics
The M2 is built around BMW's 2-series layout, which means you technically have a back seat—but not really. It's a good spot to throw your gym bag, I guess. It's a two-door coupe that comes with a standard 6-speed manual transmission, which true driving enthusiasts pine for. I drove the 8-speed automatic, which is fine with me. My racing days are behind me.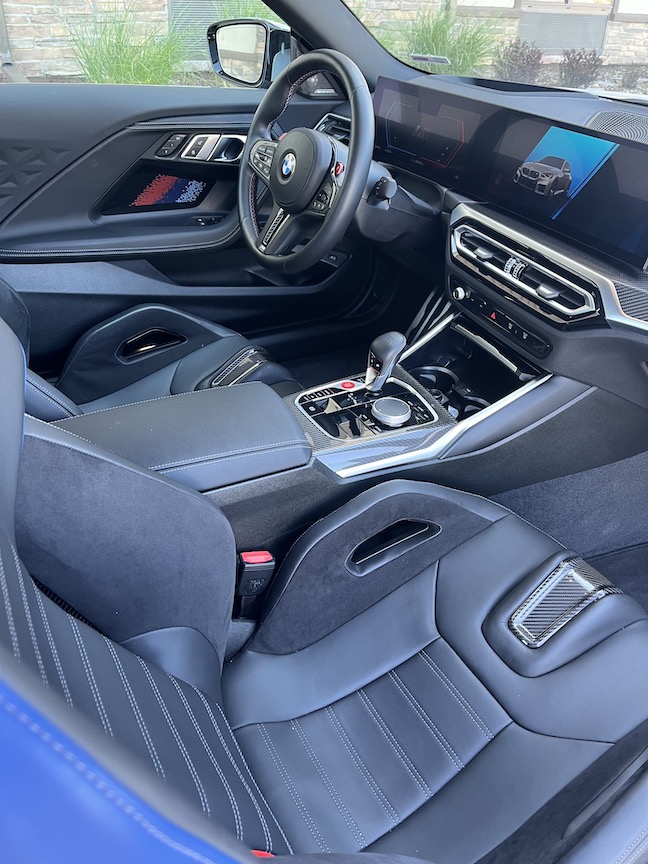 The twin-turbo 3.0-liter inline 6-cylinder (we need a few more adjectives) engine cranks out a whopping 453 horsepower. There were times I felt like I was on that Aerosmith Rock 'n' Rollercoaster at Walt Disney World. There was never any question about get-up-and-go.
If you're turned on by zero-to-sixty speeds, just know it's about four seconds. One early test driver referred to it as "pure Bavarian muscle." Sounds about right.
The exterior can't disguise the fact this is a powerful beast. The damned thing looks like it's going fast just sitting at the curb. Its overall appearance could best be described as "different." Sometimes that doesn't work out; I mean, the Pontiac Aztec was "different."
In this case, the M2's flared fenders and wide stance give it (in my opinion) the right look to reflect the car's power.
I heard one gripe about the grills, but in my experience the nose of automobiles are polarizing: every person seems to have their personal likes and dislikes. I've seen some ugly grills before; this isn't one of them. You do you.
The Inside
The only complaint passengers may have is the seat bolstering. The buckets are designed to conform to the human shape, I suppose, but it takes some getting used to. Once you fold yourself into them, you get it.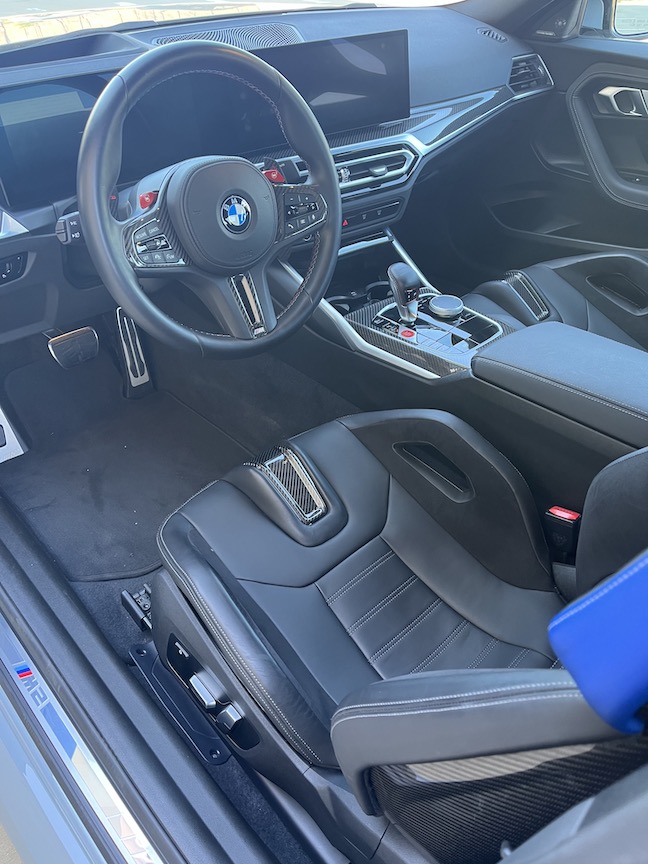 Climbing out? Let me just laugh and tell you that I hated having people around when I exited the car. It was a challenge to do it without making some unnatural sounds. Ah, if I was a younger man . . .
The materials are exquisite, and the light-up M logos are . . . well, fun. If you invest about ten grand (dang!) you can add the Carbon Package to really feel like a hot shot.
There's minimal storage space up front, but the trunk space is not bad for a vehicle this size.
The Drive
Besides the power I described earlier, there's not much to add except to say the whole idea of the M2 packaging is to produce the ultimate driving experience. I flat-out had a ball with the cornering and overall handling. It's just a pleasure to drive something designed to make you smile behind the wheel.
Electrically assisted steering is very good, if not the best. The car's suspension tuning gives it a nice, tight ride while eliminating a lot of the pesky bumps and bangs that often come with a sports car. Granted, it IS a sports car, so they can't cushion everything. But BMW insists their cars combine performance with comfort, and here they succeed.
The Tech
I find that I have a love/hate relationship with the screens inside today's cars. The majority of them are just fine, displaying a beautiful array of information about either the car or your choice of distraction at that time.
Sometimes, however, they can be clunky and a downright mess.
Not so with the digital dash of the M2. Its massive screens—one for the car's instrumentation and one for the touchscreen infotainment system—emit glorious displays that are easy to read. Apple CarPlay and Android Auto capability are built in and worked flawlessly for me during my week behind the wheel.
There are some purists roaming the streets who long for the days of analog gauges, which I understand. But personally, I dig this particular digital upgrade.
BMW's Intelligent Personal Assistant might take some getting used to. But essentially it allows you to control all sorts of things with your voice, including the windows, your climate controls, and even some of the driving tools. That takes away the argument many have about touchscreens causing drivers to take their attention off the road to fiddle with things. Now you just tell the robot to do it for you.
The Bottom Line
I glanced at the paperwork for my review car and couldn't help but nod at the slogan displayed across the top: "The Ultimate Driving Machine."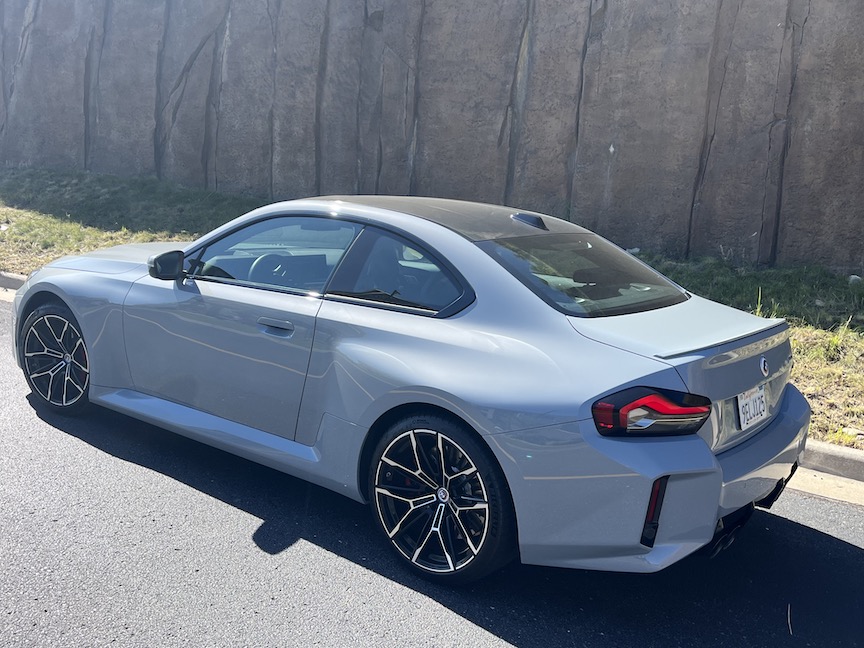 No false advertising here. The M2 really is.
Yeah, I'm sure you could find bits and pieces from the various rivals, like Porsche and Mercedes and Audi, and you could build a dream car.
But the BMW M2 Coupe is a delightful package on its own. With an interesting exterior design, a rocket for a power plant, first-class materials, and a solid ride, it's a great reward for a life well lived.
The Details
BMW M2 Coupe
3.0-liter twin turbo inline 6-cylinder engine
8-speed automatic transmission (6-speed manual is standard)
453 horsepower
Mileage: 16/23/19 combined
MSRP: $62,200
As tested: $76,845

Reviewed by Dom Testa
Car provided by manufacturer