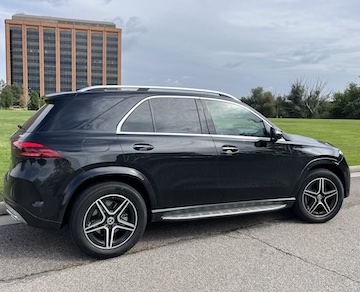 I'll tell you right up front what I love the most about this SUV:
It provides the perfect bridge for people who think they want to go all-electric, but they're either just not ready to fully give up their gas engine or they have what we call "electric range anxiety."
The GLE 450e raises its hand and says, "Try me." And you should. It not only blends both worlds, it does it with both style and performance.
The Basics
This is a plug-in hybrid, which means you'll always have your reliable gas engine when you need it—but you also can run on pure electric, too.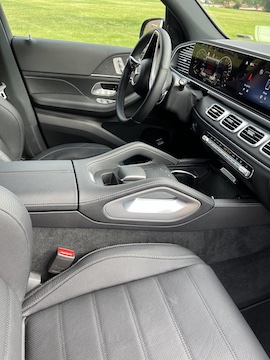 What has held back some people from this option was the limited amount of range for the electric side of the equation. It seemed like most plug-in hybrids could get you only around 20 to 30 miles.
But Mercedes addressed that here, and now the 450e's battery is capable of around 50 miles of driving on a full charge. That's significant, because the majority of people don't need more than that for a trip to the office or to school or the store.
And, making it even sweeter, it can use DC fast-charging stations. That's rare in this segment, and can deliver as much as 80% charge in about 20 minutes.
Sure, on a regular home charge, it takes much longer. But fast-charging stations are popping up all over. I can imagine someday running to Target and topping up while I spend 20 minutes inside.
Overall, the combination of the 2-liter turbo four-cylinder and the hybrid motor pump out 381 horsepower.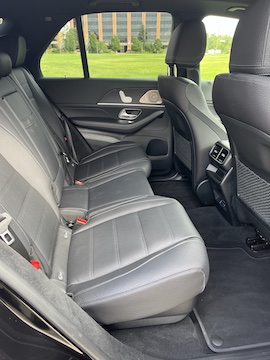 As far as looks go, this is a beautiful machine. Mercedes did not do a full redesign for 2024, but they did freshen up some things, and it's noticeable.
I love the new headlights, and the grille has a nice splash of trim running through it.
The curb appeal for GLE is high, and, if you go with the right color combo, you'll be proud to walk to this one in the parking lot.
The Inside
My love affair continues with the interior. Of course, we know we'll get full-on luxury with Mercedes, but I appreciated the eye-pleasing look of the leather combined with the grey oak trim.
Both 12-inch screens look great, and the center touchscreen worked perfectly.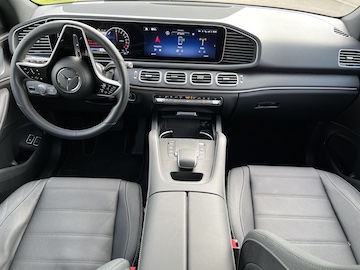 The seats—heated and ventilated— are well-designed and remarkably comfortable. Few people will ever take the 450e off-roading, so Mercedes truly catered to people who want style and comfort to and from work or hauling the family around on weekends.
There's good storage front and back, and I even enjoyed the leather-wrapped handles on each side of the center consoles. No, you don't really need them if you're staying on city roads, but we all search for places to rest our hands in a car, and these just naturally provide a comfy spot.
The Drive
It's clear that the goal of the engineers was to find the sweet spot when balancing a luxury feel with good performance. I'd call this a success.
For one thing, a 9-speed transmission in some vehicles can produce an effect where the car seems to be scrambling to find the right gear. You don't get that with the GLE 450e. It delivers a smooth transition from one speed to the next.
I was a bit surprised at the get-up-and-go. At no point did I feel like I lacked any power for merging or passing. And, as a bonus, the ride is not only smooth, but quiet.
Sure, the thing weighs nearly 6,000 pounds, so it's not exactly the most nimble car you'll drive. But it's quite good, with solid handling and a luxurious ride.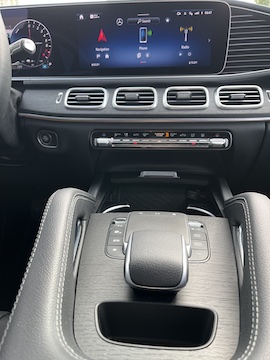 And while it may be a minor thing, I had to chuckle at how good the turning radius is. I mean, noticeably good.
It's possible Mercedes sacrificed a smidge of fuel economy to get that ride, but when you factor in the all-electric aspect, especially considering the all-wheel drive element, it's a great trade.
The Tech
Those two 12-inch screens provide a nice display that stretches from behind the wheel to the center of the dash. It looks good and it's functional—which is not always a given with some cars.
While some people will rave about the steering wheel being packed with switches and options for driver control, I personally thought it was a bit too much. The wheel—which, in general, is a gorgeous component—is just too cluttered. I found it a little confusing.
The rest of the dash has a combination of touchscreen controls and the old-fashioned toggle switches. Me? Give me more toggle and less nonsense with poking around a screen's menu.
The SUV comes with both Apple CarPlay and Android Auto standard. One of the few glitches I had during my week behind the wheel was an occasional disconnect of CarPlay for no obvious reason. We call this a first-world problem, right?
The seats have all the electric options you'd ever want, including electronically controlled power seats in the back. Hey, you can even pick up a massaging feature if that's your jam.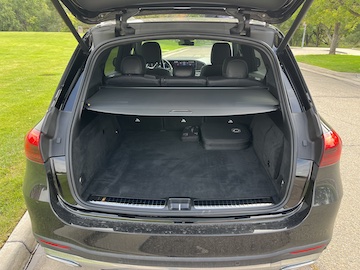 Look into the soft-close doors. Imagine a world where your kids can no longer slam a door.
And listen, if you can, spring for the option with the Panoramic roof. Damn, I love those and it really brightens the interior.
The Bottom Line
Whether you like it or not—and I love it—the electrification of our transportation system is coming, full steam ahead.
If you're going to dip your toe in, you can hardly do better than the Mercedes GLE 450e. It gives you a nice range of all-electric, the ability to charge quickly, along with the gas power you might crave from time to time.
And the whole package comes in a gorgeous, well-designed mid-sized SUV that drives well and provides the tools and toys you need.
The Details
2024 Mercedes GLE 450e Plug-In Hybrid
2.0-liter 4 turbo engine with hybrid
Combined horsepower: 381
9-speed automatic transmission
All-wheel drive
Mileage: 24 mpg combined
All-electric range: listed at 48 miles
MSRP: $69,500
As tested: $84,980
Vehicle provided by manufacturer
Reviewed by Dom Testa