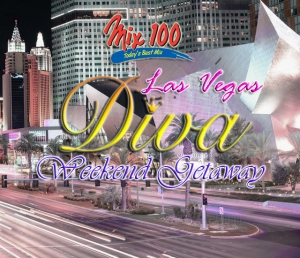 SUMMER IS HERE!
IT'S TIME FOR MIX 100'S  HUGE SUMMER OF MIXPERIENCES!
ALL SUMMER LONG WE'RE GIVING AWAY ONE OF A KIND MIXPERIENCES!!!!  MEMORIES TO LAST A LIFETIME…..THINGS YOU'LL BE TELLING STORIES ABOUT FOR YEARS.
UP FIRST!  MIXPERIENCE #1!!
DIVA WEEKEND IN VEGAS.  MIX WANTS TO FLY YOU AND YOUR FAVORITE DIVA TO SIN CITY.  WE'VE GOT YOUR AIRFARE, YOUR HOTEL AND TICKETS TO SEE  BRINTEY SPEARS!……..THEN SAVE YOUR ENERGY, CUZ YOU'RE ALSO GOING TO SEE MARIAH CAREY! ………… WITH A DIVA WEEKEND THIS CRAZY WE'RE THINKING WE'D BETTER SEND A DIVA CHAPERON WITH YOU……………EMILY FROM THE MIX MORNING SHOW!  YOU KNOW, TO UH.  KEEP YOU OUTTA TROUBLE!!!!!!!
LISTEN TO MIX 100 ALL DAY FOR THE MIXPERIENCE DIVA CODE WORDS!
TEXT IT TO 30218 AND YOU'RE AUTOMATICALLY ENTERED.
IT'S MIX 100'S HUGE SUMMER OF MIXPERIENCES! MIX 100!