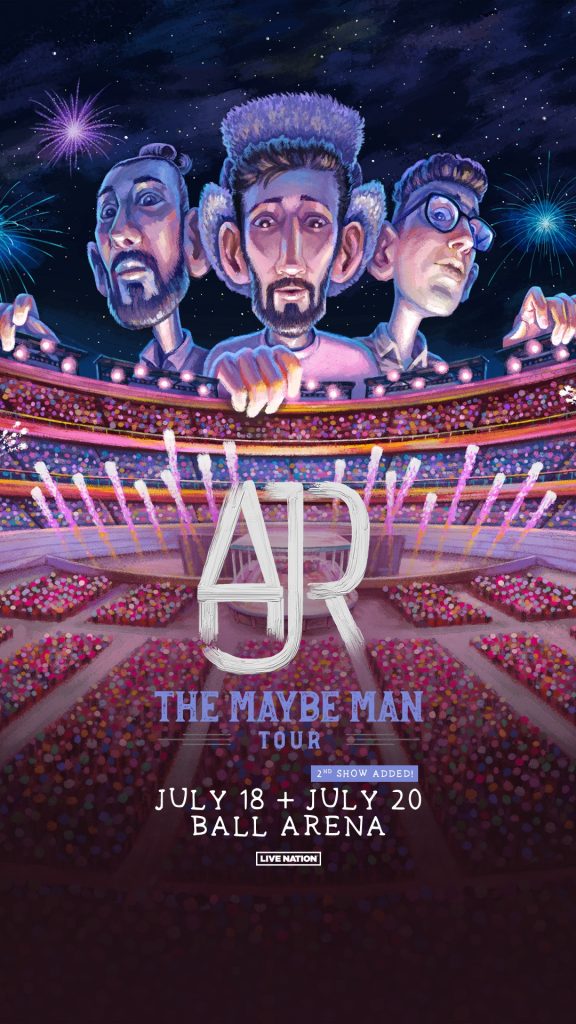 Presale: Thursday, November 16 at 10:00am-10:00pm
Password: AJRDEN
On Sale: Friday, November 17 at 9:00am
New York-based brother band AJR is generating significant buzz with their unique blend of barbershop harmonies, dubstep beats, and internet-savvy lyrical references. The trio's success with debut single "I'm Ready" has inevitably drawn comparisons to fellow brother outfit Hanson, but AJR's eclectic sound and DIY approach put them in a category all their own. From bright handclaps and playful samples to energetic ukulele and guitar strumming, AJR have crafted an endlessly creative sound that always leaves fans wanting more on their unforgettable tours.
AJR is comprised of brothers Adam, Jack, and Ryan Met. The native New Yorkers got their start as street performers, playing covers of songs by the Beach Boys and Vampire Weekend in parks around Manhattan. The brothers released their debut single "I'm Ready" in 2013, tweeting it out to a number of celebrities in the hopes of getting discovered. The tactic worked — the song caught the eye of SIA, who helped AJR secure a management deal. As the group's reputation continued to grow, they made their first TV appearances with performances on Good Day New York and VH1's Big Morning Buzz show. In late 2013 AJR released the I'm Ready EP, a solid debut that earned them opening slots on tour with big-name acts like Demi Lovato and the Wanted. A rising young act with talent to the gills, AJR have ticket buyers eagerly awaiting their upcoming tour dates.
WHEN
July 18, 2024 7:30 pm – July 20, 2024 11:00 pm
VENUE
Ball Arena
1000 Chopper Cir, Denver, CO 80204
FAST FACTS
Cost more than $180 million in private funds to build across 21 months
Site Acreage: 45 acres
Square Footage: 675,000
Opened October 1, 1999 with Celine Dion in concert
The Grand Atrium sculpture weighs 2,000 pounds, cost $75,000 and is 1.5 times life size
It takes over 1,000 staff members to run an event
Owned and operated by Kroenke Sports & Entertainment
SEATING AT BALL ARENA
Concerts: 20,000+ depending on stage configuration
Basketball: 19,520
Hockey: 17,809
Lacrosse: 17,809
Special Events: 21,000
Suites: 95 luxury suites that can accommodate 12 – 16 people
COLORADO AVALANCHE 
There are 149 panes of .5″ thick glass that surround the hockey rink, weighing between 50 and 250 pounds apiece. It takes 2 forklifts and 8 people 45 minutes to "hang" the entire rink.
Each net hung on the ends of the rink has a lifespan of only 33 games.
For other events in the building, the ice is covered with approximately 600 pieces of a 1″ thick fiberglass board.
DENVER NUGGETS 
Cost of the basketball court is $105,000.00.
Each basketball stanchion weighs approximately 3,300 pounds and is anchored into the basketball floor to prevent it from being tipped over.
Each net on the basketball goals is replaced every 5 games or as needed.
There are 233 pieces to the basketball floor – each weighing approximately 185 pounds. The total weight of the entire basketball floor is 41,625 pounds.
COLORADO MAMMOTH  
The Mammoth carpet consists of 14 – 15′ wide rolls of Astroturf and is .75″ thick.
It takes 12 people only 25 minutes to lay the field.
VENUE MANAGEMENT 
Denver-based Kroenke Sports & Entertainment is one of the world's leading ownership, entertainment and management groups.  As owners and operators of Ball Arena, Paramount Theatre, Dick's Sporting Goods Park, the Denver Nuggets (NBA), Colorado Avalanche (NHL), Colorado Mammoth (NLL) and Colorado Rapids (MLS), KSE's sports and entertainment assets are second to none. Additional properties under the KSE umbrella include Altitude Sports & Entertainment, a 24-hour regional television network and Altitude Authentics, the company's official retail provider.