Gayle is giving solo tours another shot. After gaining experience supporting Taylor Swift and P!nk this year, the "abcdefu" singer announced Monday (June 12) that she's hitting the road in the fall for her very own headlining trek in North America.
Dubbed the "Scared But Trying" tour, the 15-show run will kick off Oct. 17 in Tampa and find Gayle making stops in L.A., Chicago, Toronto, Montreal, New York City and more before closing out with a hometown show in Nashville. It'll mark her first headlining excursion since she canceled her fall 2022-scheduled Avoiding College tour, saying at the time that she was still "learning how to be an adult and how best to do this new life."
"Going on tour with taylor swift and p!nk has been some of the most exciting and terrifying moments of my life," the 19-year-old musician wrote in her Scared But Trying Tour announcement on Instagram. "Before walking on stage i would get nauseas and it would be hard for me to control my breathing but no matter how i felt, i would try and do it anyways."
Since the Avoiding College tour cancellation, Gayle has provided support in 2023 for Swift's ongoing Eras Tour and is currently assisting P!nk on her Summer Carnival 2023. She's also gearing up for a handful of festival shows in Germany and the Netherlands later this month.
"The thought of going on my own tour is very intimidating to me but i've been scared for the past two years and over time i've learned i can do things even though i'm afraid," she added in her post. "with this tour, i am scared, but i'm ready to try."
According to a release, special guests for the Scared But Trying tour will be announced soon. Artist presales begin at 10 a.m. local time on Tuesday (June 13); Spotify and local presales begin 10 a.m. local time on Wednesday (June 14) and a general on-sale begins at the same time on Friday (June 16). More ticket information can be found on Gayle's site. – Billboard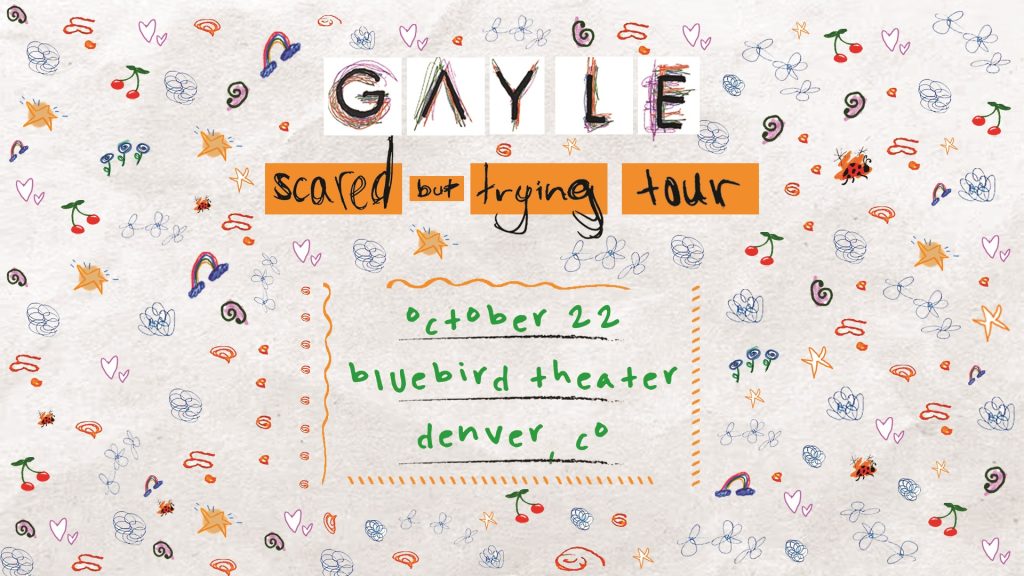 WHEN
October 22, 2023 7:00 pm – October 22, 2023 11:00 pm
VENUE
The Bluebird
3317 East Colfax Avenue , Denver, CO 80206