Announce: Tue, May 30 at 8a MT
Local Presale: Thu, Jun 1 from 10a MT – 10p MT, PW: THEDRAMA
On Sale: Fri, Jun 2 at 10a MT
The Grammy-nominated singer-songwriter announced a 20-city North American tour in support of her new album Gag Order, set to go down this fall with special guest Jake Wesley Rogers.
"GAG ORDER TOUR. WHO'S TURNING UP?" wrote Kesha, 36, alongside the tour's announcement on Instagram. She also took to the comments section underneath the post, writing, "We gonna burn the house down bby."
Kicking off Oct. 15 in Dallas, the Gag Order Tour will hit venues throughout North America including New Orleans, Atlanta, Nashville, Philadelphia, Boston, New York City, Toronto, Detroit and Chicago before wrapping on Nov. 18 in Los Angeles.
Kesha will be at Mission Ballroom November 14th – People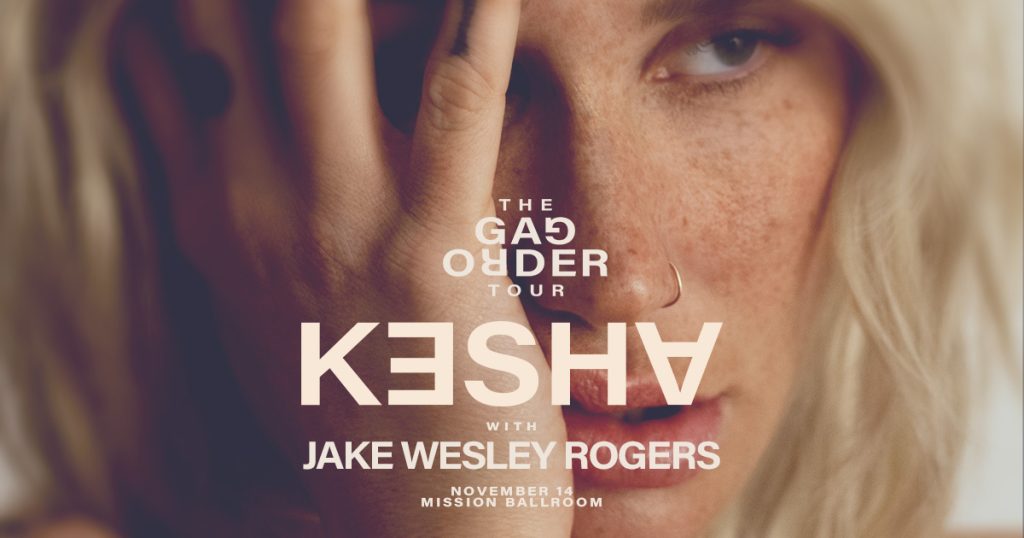 WHEN
November 14, 2023 8:00 pm – November 14, 2023 11:00 pm
VENUE
Mission Ballroom
4242 Wynkoop Street, Denver, CO 80216
The Mission Ballroom is a scalable, state-of-the art concert venue scheduled to open in summer 2019. The 60,000 square-foot ballroom anchors North Wynkoop, a new 14-acre mixed use project by Denver-developers Westfield Company, located at the north-end of the RiNo neighborhood. The Mission Ballroom features a moving stage that provides flexible capacity from 2200 to 3950 guests, unrivaled sight lines via tiered rows, state-of-the-art sound and lights, and a large dance floor. Full-service bars conveniently placed around the venue maximize flow, efficiency and patron experience. The Mission Ballroom is not only a premiere concert facility, but also serves as a unique special event space for corporate meetings and other functions, award shows, galas, weddings, receptions, launch parties, trade shows, private events, and more. The Mission Ballroom is operated by AEG Presents. AEG Presents is one of the world's largest live music companies. The company is dedicated to all aspects of live contemporary music performances, including producing and promoting global concert tours, regional music events and world-renowned festivals. AEG Presents operates in North America, Europe and Asia through 22 regional offices that support its tours which include such artists as The Rolling Stones, Taylor Swift, Paul McCartney, Justin Bieber, Katy Perry, Elton John, Celine Dion, and Kenny Chesney. AEG produces over 40 music festivals, including the iconic Coachella Valley Music & Arts Festival, New Orleans Jazz & Heritage Festival, Stagecoach California's Country Music Festival, Desert Trip, Firefly Music Festival, Hangout Music Festival and Panorama and owns, manages or exclusively promotes in more than 80 clubs and theaters worldwide. AEG presents more than 11,000 shows annually worldwide and conducts business under such globally renowned brands as AEG Presents, Goldenvoice, The Bowery Presents, Concerts West, Messina Touring Group, Marshall Arts LTD and Madison House Presents. AEG Presents Rocky Mountains produces events at Fiddler's Green Amphitheatre, 1STBANK Center, Bluebird Theater, Ogden Theatre, Gothic Theatre, Red Rocks Amphitheatre, Pepsi Center and more in Colorado as well as events in Utah, Wyoming, New Mexico, and Arizona.