Best known for his five-times platinum hit "Home," Phillip Phillips has always been interested in making music that allows people to reflect on their life. Growing up in Leesburg, Georgia, Phillip first picked up guitar at age 14 and soon mastered riffs mostly by playing along to his family's karaoke machine. He took up singing and songwriting as a teenager which led to him forming an acoustic band with his older sister and brother-in-law.
With encouragement from his family and friends, he took a break from working in his family's pawn shop and auditioned for American Idol in summer 2011. After impressing the nation with his stellar vocal control and stage presence, Phillips emerged as the show's season 11 winner. Premiering the same day he claimed his victory, "Home" marked the most successful coronation song of any Idol winner and the highest-ever debut on Billboard's Digital Songschart.
Phillips' 3rd studio album, Collateral, was a work in progress for many years before being released to the public. Included on Collateral is "Dance With Me," a song Phillips wrote for his now wife and longtime love, Hannah. "That song was our first dance," Phillips points out. "During the ceremony I cried like a baby the whole time and she didn't cry at all, but when "Dance With Me" started there were definitely some tears."
One management change, a new agency and an entirely different label strategy, Phillip is ready to reintroduce himself with the release of his newest single "Love Like That." While Phillip and his wife Hannah are typically private people, "Love Like That" showcases the life they have built behind closed doors and brings to light the changes they have gone through as a couple. Phillip hopes that the single helps people channel the unconditional love he has for his family into their own relationships. "I would love to see other peoples life as well using their old phone videos or old camera videos using this song as well. Through their relationship with a spouse, friend, lover, whatever it is." – axs.com
Phillip Phillips will be at the Gothic Theatre October 30th, 2023. Tickets are on sale now!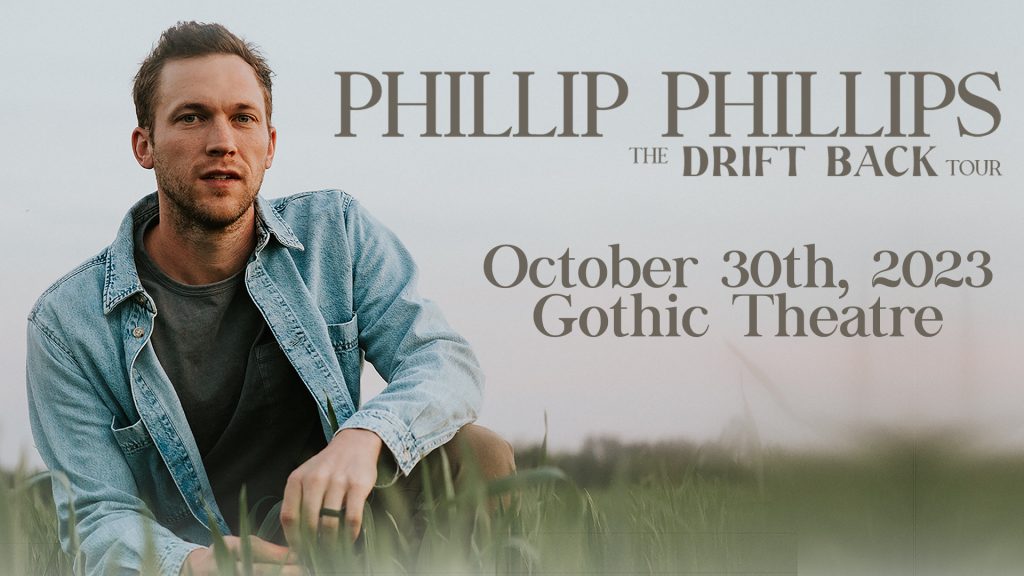 WHEN
October 30, 2023 8:00 pm – October 30, 2023 11:59 pm
VENUE
Gothic Theatre
3263 S Broadway, Englewood, CO 80113
The Gothic Theatre is a former movie theater turned music venue in Englewood, Colorado. It was built in the 1920s but later revitalized in 1998