Presale: Thursday, June 29 at 10am – 10pm
On Sale: Friday, June 30 at 10am
Catch The Band CAMINO at MIssion Ballroom on October 2nd!
The Band CAMINO has blazed a permanent trail for themselves in music, garnering more than 500 million global streams to date and widespread acclaim. Since relocating from Memphis to Nashville in 2018, the band (singers/guitarists Jeffery Jordan and Spencer Stewart and drummer Garrison Burgess) has been honing their signature 'Band Camino' sound at the crossroads of pop and rock music. Their self-titled debut album (Sept. 2021) showcases the trio's electrifying guitar-driven sound, first introduced on their anthemic EP tryhard in 2019, which spawned fan favorites "Daphne Blue" and "See Through."
In addition to selling out multiple tours – including their largest headline run to date in 2022 – and hitting the major festival circuit with performances at Lollapalooza, Hangout, Forecastle, and Austin City Limits (where they were named a "breakout act" by Grammy.com), The Band CAMINO has developed a highly-engaged worldwide fanbase. Their growth has been largely stimulated by raw discovery, even catching the attention of Taylor Swift, who included the band's reflective track "Berenstein" on her "Songs I'm Loving Right Now" playlist in 2018.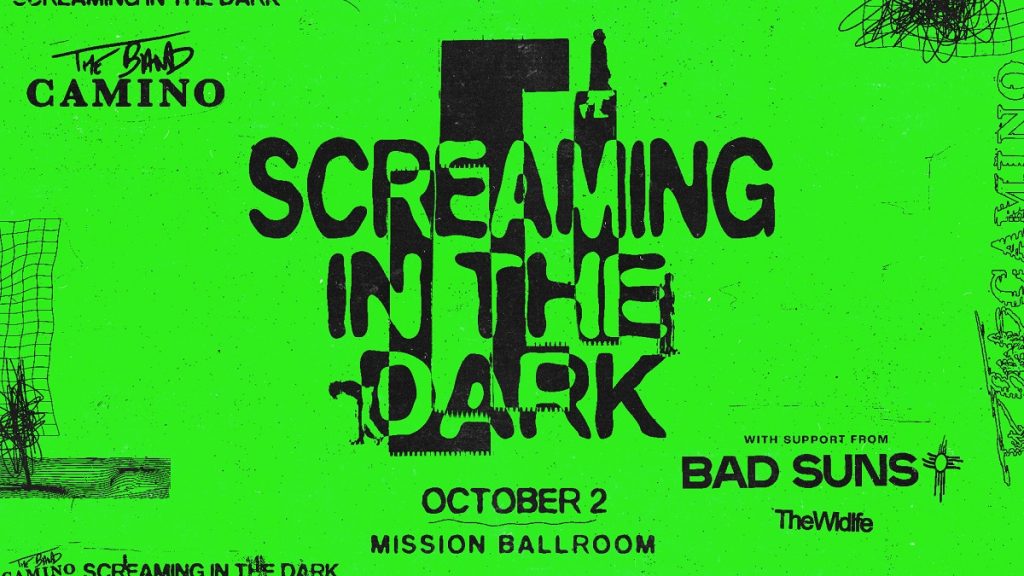 WHEN
October 2, 2023 7:00 pm – October 2, 2023 11:00 pm
VENUE
Mission Ballroom
4242 Wynkoop Street, Denver, CO 80216
The Mission Ballroom is a scalable, state-of-the art concert venue scheduled to open in summer 2019. The 60,000 square-foot ballroom anchors North Wynkoop, a new 14-acre mixed use project by Denver-developers Westfield Company, located at the north-end of the RiNo neighborhood. The Mission Ballroom features a moving stage that provides flexible capacity from 2200 to 3950 guests, unrivaled sight lines via tiered rows, state-of-the-art sound and lights, and a large dance floor. Full-service bars conveniently placed around the venue maximize flow, efficiency and patron experience. The Mission Ballroom is not only a premiere concert facility, but also serves as a unique special event space for corporate meetings and other functions, award shows, galas, weddings, receptions, launch parties, trade shows, private events, and more. The Mission Ballroom is operated by AEG Presents. AEG Presents is one of the world's largest live music companies. The company is dedicated to all aspects of live contemporary music performances, including producing and promoting global concert tours, regional music events and world-renowned festivals. AEG Presents operates in North America, Europe and Asia through 22 regional offices that support its tours which include such artists as The Rolling Stones, Taylor Swift, Paul McCartney, Justin Bieber, Katy Perry, Elton John, Celine Dion, and Kenny Chesney. AEG produces over 40 music festivals, including the iconic Coachella Valley Music & Arts Festival, New Orleans Jazz & Heritage Festival, Stagecoach California's Country Music Festival, Desert Trip, Firefly Music Festival, Hangout Music Festival and Panorama and owns, manages or exclusively promotes in more than 80 clubs and theaters worldwide. AEG presents more than 11,000 shows annually worldwide and conducts business under such globally renowned brands as AEG Presents, Goldenvoice, The Bowery Presents, Concerts West, Messina Touring Group, Marshall Arts LTD and Madison House Presents. AEG Presents Rocky Mountains produces events at Fiddler's Green Amphitheatre, 1STBANK Center, Bluebird Theater, Ogden Theatre, Gothic Theatre, Red Rocks Amphitheatre, Pepsi Center and more in Colorado as well as events in Utah, Wyoming, New Mexico, and Arizona.