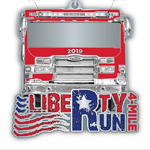 Red, white, and you.  Start off your 4th of July with Denver's original and most iconic 4th of July run/walk 4 Mile event. Fun interactive activities with the Denver Fire Department thanks to our Charity Partner, the Denver Fire Department Foundation.
The Liberty Run 4 Miler, has something for all ages and abilities.  You can run or walk, or you can take part in our competitive USATF judged race walk.  Plus kids 8 & Under can enjoy our FREE Firecracker 100 Meter Kids Fun Run. 
NEW:  VIP Experience (limited availability) – includes: Access to VIP Tent, Amazing Food, Beverage, Private Porto-Potties, Special Photo Area, Special Gift, and with the purchase of the VIP experience, one entry will be donated to a firefighter.
Attention Fire Fighters: Firefighter Department Team Competition. Compete with your department against others for the championship! All team sizes welcome, just be sure to register on the same team. We will take the top 4 fastest finishers for the competition. Fastest average time wins the prize and department bragging rights.
Dress in your best Red, White, and Blue!  Prizes will be awarded for best child and adult display of USA!