ON-AIR | 6AM – 10AM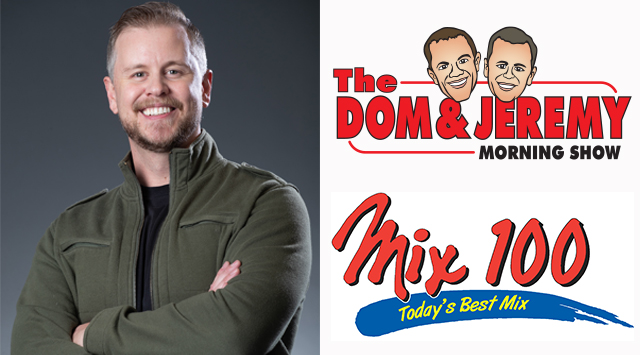 People generally want a morning radio show to make them laugh, give them interesting things to think (and talk) about, and to include some stimulating games. Sadly, The 
Dom

 and Jeremy Show does none of that. Kidding! It's only been Denver's favorite morning show for more than twenty years for ALL of those reasons!
Fun topics, lots of listener interaction, and the most popular radio contest in the world, The Mindbender. Entire families have grown up listening every weekday morning. You should, too.
Hey, it's Jeremy and this is the portion of the website where we brag about all of our accomplishments and really try to impress you!

So here's the deal – I've been at Mix 100 for a long time.  I collect 80's action figures and enjoy tight fitting corduroy pants. People seem to enjoy my company and I consume an excessive amount of hard-boiled eggs. I'm a Netflix subscriber and have never had a cavity!  Impressed yet?

I spend some of my free time volunteering with numerous community organizations and I contribute inspiring and witty parenting articles over at Colorado Parent Magazine.

I also hold the position of Executive Producer for Mix 100. Covering behind the scenes aspects of the radio station including podcasting, commercial production, imaging, and social media. In addition to my work in radio, I have experience in print work, television commercials, voice-overs, and corporate training videos.

I scored a BA Degree in Speech Communications with an emphasis in Broadcasting and a Minor in Marketing from the Metropolitan State University of Denver – graduating cum laude.

I also unplug the microwave every time I leave the house.