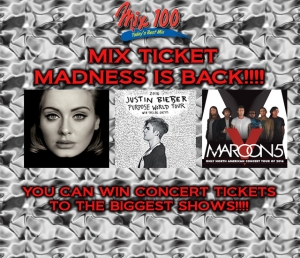 MIX 100 LOVES TO SEND OUR LISTENERS TO THE BIGGEST, HOTTEST CONCERTS COMING TO DENVER, IT'S CALLED MIX 100 TICKET MADNESS!
5 TIMES A DAY, MON-FRI, MIX 100 LISTENERS WILL HAVE A CHANCE AT WINNING INCREDIBLE CONCERT TICKETS TO SEE ELLIE GOULDING, LUMINEERS, DEMI LOVATO AND MORE! THE WINNING BEGINS WITH THE WORLD FAMOUS MIND BENDER QUESTION AT 7:30A WITH DOM, EMILY AND JEREMY. AND CONTINUES WITH MARK ANDREW DURING THE WORKDAY AND WITH BO JAXON ON THE DRIVE HOME
(Mark and Bo will play the winning sounder for you to be the 21st caller at 303-631-1MIX). EACH CONCERT TICKET WINNER QUALIFIES FOR THE GRAND PRIZE "MIX MEGA CONCERT BINGE" WHICH INCLUDES 4 TICKETS TO THE SOLD OUT ADELE SHOW, 4 TICKETS TO MAROON 5, 4 TICKETS TO JUSTIN BIEBER
AND 4 TICKETS TO SELENA GOMEZ!!!!!
PLUS LIMO RIDES TO THE SHOWS COURTESY OF SUNSET LIMO, DENVER'S PREMIERE LIMO SERVICE. AND IF THAT'S NOT MAD ENOUGH, WE'LL THROW IN $1000 SPENDING CASH FOR THE LUCKY GRAND PRIZE WINNER!!!!! MIX 100 TICKET MADNESS!