This Weeks Staycation is brought to you by Carbon County Wyoming, don't miss the woodchopper's Jamboree this weekend or Saratoga days, and Summer fest this July!
Not only is there plenty of wide open spaces to explore but there are lots of charming towns and communities to discover too!
Save the date for these iconic Carbon County summer events:
June 18th & 19th – Woodchopper's Jamboree in Encampment, WY
July 2nd – Saratoga Days in Saratoga, WY
July 8-9th – Summerfest in Rawlins, WY & Platte Valley Rodeo
July 30-August 6th – Carbon County Fair and Rodeo in Rawlins, WY
August 20th – Steinley Cup Microbrew Festival in Saratoga, WY
August 27th  – BullFest in Saratoga, WY
You may want to get off the beaten path and bide your time with a scenic drive through the area!
One of the best is the Snowy Range Scenic Byway. This high-altitude drive meanders through some of the most spectacular and easily accessible peaks in Medicine Bow National Forest with many awe-inspiring stops along the way. Hikers can take a 5.5-mile hike to Medicine Bow Peak. At 12,013 feet, it's the highest peak in southern Wyoming and features switch-backs, rock crossings, and breathtaking scenery. Lake Marie (named after Mary Bellamy, suffragist and the first woman elected to the Wyoming State Legislature in 1910) is gorgeous and even has a waterfall.
Along the way, Ryan Park Campground offers a look into its time as a prisoner of war camp, housing captured German and Italian soldiers in the 1930s, through historic interpretive signs. End your day with a soothing dip where Native Americans once soaked for the healing powers of the hot springs at the Hobo Hot Springs in Saratoga, Wyoming. It's free to the public and open 24 hours a day, seven days a week.
Discover Carbon County's History, Legend and Lore
Another large draw to Carbon County is the history, legend and lore of it's western past. When you visit Carbon County, you can step back in time and choose to stay in any of the three hotels on the National Register of Historic Places. The oldest hotel in the county is The Hotel Wolf, serving guests since 1893 in Saratoga, Wyoming. Passengers on the stages running south from Walcott Junction or north from Encampment, Wyoming used it as a place to rest and eat. The Historic Elk Mountain Hotel features an eclectic style with a touch of Victorian elegance and Country charm, and no two rooms are alike. The food there is pretty incredible as well! The Historic Virginia Hotel, was the biggest one between Denver and Salt Lake City back in 1911. This was the place for cowboys and railroad workers to rest and refuel, as well as serving as a central spot for business meetings and other gatherings. Today, you can return to those times in antique sleeping rooms or at the Shiloh Saloon, where bullet holes riddled throughout remind you of past shootouts.
Explore 10+ Museums and Historic Sites
Wyoming's rich resources drew all sorts to the West, including explorers, trappers, settlers, homesteaders, stockmen, and miners, and Carbon County offers glimpses into their life through museums.
Carbon County is full of museums that explore the West and its colorful, often romanticized, past.
The number of outlaws in the Wild West required law and order. Rawlins, Wyoming, is home to Wyoming's first state penitentiary, now known as the Wyoming Frontier Prison. This spooky and haunted place is one of the most popular and most visited historic sites in the county!
The Carbon County Museum in Rawlins, Wyoming, is filled with exhibits and artifacts depicting Carbon County and state history. If you dig mining history, the Grand Encampment Museum located in Encampment, Wyoming preserves the industry's past with its collection of artifacts representing the timber, mining, and agricultural history of the North Platte River Valley. Near the Colorado border in Savery is the Little Snake River Museum. Once a schoolhouse, this is now a place to explore what life was like during the Old West. Perhaps even more fun, many historic buildings from around the Snake River Valley are located at the museum.
Train buffs will enjoy the Saratoga Museum and the Medicine Bow Museum. Both are located in original railroad depots and are filled with interesting exhibits and artifacts. In Hanna, Wyoming, is the Hanna Basin Museum dedicated to revealing life and death in the first coal camp along the original line of the Union Pacific Railroad. In Sinclair, Wyoming, at the Parco/Sinclair Museum, you'll find a unique museum dedicated to petroliana — collectibles related to gas stations and the petroleum industry.
Unparalleled Outdoor Recreation – If you love the great outdoors, Carbon County is the place to be.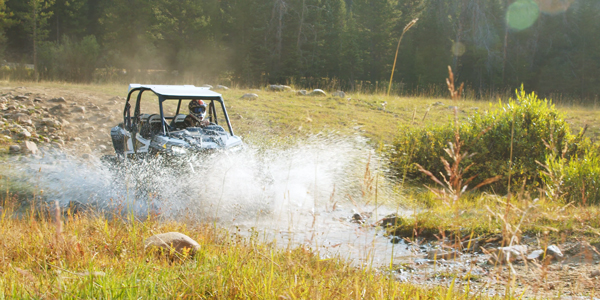 Carbon County is 7,897 square miles from the mountains to the deserts. It is known for it's gorgeous mountains, scenic vistas and pristine rivers and streams. There is a lot of ground to cover to take advantage of all the exciting and authentic experiences here. This Rocky Mountain paradise offers an impressive range of landscapes and activities. So pack up the tackle box and picnic basket and get ready for a little one-on-one time with nature!
Popular outdoor activities include hiking, fly fishing, rafting, mountain biking and ORVing! We have hundreds of miles of trail to explore including a beautiful section of the The Continental Divide Trail.
During winter, thrill seekers fire up snowmobiles or head out for cross-country skiing. Carbon County has some of the best snowmobiling in Wyoming. Explore over 500 miles of groomed and ungroomed trails with terrain to excite users of all skill levels!
Find Lodging and Plan Your Trip
The best place to start planning your visit to Carbon County is at our website: https://www.wyomingcarboncounty.com
We have a lodging and dining directory to help you find your perfect basecamp. You will also want to make sure to download our free area travel guide. Another popular resource is our collection of interactive maps which are especially great for outdoor recreation adventure planning. We also recommend checking out area videos which showcase specific adventure ideas and places to add to your travel itinerary.