Perfect for stay at home date night we have a great prize of a digital download of THE BROKEN HEARTS GALLERY and a chance at a Sundae in a Box from Serendipity Ice Cream!
What if you saved a souvenir from every relationship you've ever been in? THE BROKEN HEARTS GALLERY follows
the always unique Lucy (Geraldine Viswanathan), a 20-something art gallery assistant living in New York City, who also
happens to be an emotional hoarder. After she gets dumped by her latest boyfriend, Lucy is inspired to create The Broken
Heart Gallery, a pop-up space for the items love has left behind. Word of the gallery spreads, encouraging a movement and
a fresh start for all the romantics out there, including Lucy herself.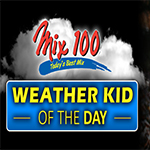 Do you have a kid 12 years or young that might want to read the weather for MIX 100?! Click the button below and fill out the form for their chance to become the MIX 100 Weather Kid of the Day!


Sponsored by: