It's Denver's favorite morning radio show! And that's not just US saying it – the Colorado Broadcasters Association has etched our names on a bunch of plaques.
Dom has hosted the morning show for a LONG time. (Let's put it this way: there are college seniors who weren't born yet when Dom started at Mix 100.) Jeremy has also been making you laugh with his quirky stories and wacky sense of humor since 2004!
Join us weekday mornings for a ton of laughs, the Trending Report, Rattle Off, and the most popular radio contest in the world, The Mindbender.
You can listen online, on your smartphone (just search for "Mix 100 Denver" in your phone's app store), smart speakers – or enjoy to thousands of our podcasts at Mix100.com. No matter how you find us, you'll quickly become part of our family. Thanks for starting your day with Dom and Jeremy! YOUR BOYZ IN THE MORNING!
---
We know you follow us on Facebook… But if you didn't, this would be our reaction. FOLLOW US for the latest Dom and Jeremy updates from Mix 100!
---
Are you following Dom and Jeremy on Instagram? Click to Follow!
Mix 100.3 Morning Podcasts
July 19, 2019
"Tell me what my pet is thinking"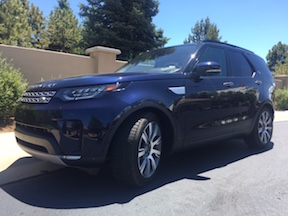 When you think of a car being designed today, you probably imagine someone hunched over a computer screen in an office, high up in a gleaming building in some large city.
Which is why there's something charming about the fact that the original Land Rover was designed on a farm.
It was the late 1940s, and it's likely the Land Rover was inspired by the recent success of the American Jeep in World War II. The earliest Land Rovers were even painted with leftover supplies from the war effort, so they were all shades of green.
We've come a long way, and so has the Rover. Today it's the one that's gleaming, with sleek, modern lines and high-end materials. But it never lost its original farm bones; it's not afraid to veer off the pavement and take you across country, bounding through fields and up slopes.
Just give it a good scrub afterwards and it'll be ready to take you back to the country club later that evening.… Continue Reading
Dom In The Morning Blog
Okay Foodies, get ready for the most delicious Finish Line ever at the EatingWell & Health Fit Foodie Festival & 5K/10K! The most delicious run ever hits the road this year with a huge line up of events that get your mouth watering and your heart pumping. Calories Burned. Calories Earned. Right?
Eat your way to the most delicious Finish Line ever, then celebrate at the post-run Food and Fitness Festival with mouthwatering bites, beer garden, culinary and fitness demonstrations, and so much more. A run you can really sink your teeth into, your registration includes:
· 5K (or 10K) registration and bib
· Bites along the course
· Finisher's medal
· Access to the post-run Food and Fitness Festival
· Delicious tasting stations
· Celebration drinks in the beer garden
· Goody bag with gifts from health and wellness brands
· Cash reward and prize package for top finishers
· Bib Pickup night before run
· Automatic donation to No Kid Hungry
Just hungry? Join us inside the Food and Fitness Festival for eats, drinks and plenty of fun. See ya there!
Check out the city closest to you for specific details on participating athletes, event line-up, chefs, sponsors, and all other mouthwatering details. Each city is different and recipes and demo schedules will vary.

Click here to read full story »
Saturday, August 17th
Getting to zero will require all of us: that's zero stigma, zero discrimination, zero new infections, and zero deaths from AIDS-related complications. It takes more than just one person or one organization, more than just one day or one event. It takes all of us joining together to celebrate how far we have come, honor the journey and remember the loved ones we have lost, and above all to rally together in solidarity with our community as a testament to the strength and resilience of all those impacted by HIV.
Festival for Life & 5K Walk/Run: AIDS Walk Colorado is the Rocky Mountain region's oldest one-day HIV and AIDS fundraiser. For over thirty years, thousands of people from across Colorado have joined together as a community to raise money for organizations that provide vital services to people living with or at risk of acquiring HIV.
In addition to the traditional 5K Walk/Run, the Festival features live entertainment, food trucks, a beer garden, and family-friendly activities. As part of the day's storied tradition, we will display panels from The Names Project – AIDS Memorial Quilt, an act of remembrance for all affected by HIV/AIDS.

Click here to read full story »
5K Run/Walk & 1K Family Fun Run
Join us for the 4th Annual Denver Nuggets 5k – RUN TO THE RIM race on Sunday, August 11th, 2019 presented by Planet Fitness. The route will begin at Pepsi Center, goes through Auraria Campus then finishes with a post-race festival! (*The 5k is for all ages and fitness levels, so your entire family can participate.)
The Family Fun Run will be throughout Pepsi Center Property and finishing with a post-race festival!
Not only will the best mascot in the NBA, Rocky be leading off the race, but also there in support will be the Denver Nuggets Dancers, the Skyline Drumline and Mile High Hype Squad.

Tuesday, August 20th
Red Rocks
Click here to read full story »
Join Lalaine Saturday, July 20th from 10-noon at the Meritage Homes Community in Castle Pines located at 7119 Othello St! Stop by and spin the KOOL 105 Prize Wheel and Register to win a pair of KOOL KONCERT 2019 Tickets!
Click here to read full story »
This week's Staycation is sponsored by the $50,000 "Win The Wheels" giveaway at the Golden Mardi Gras Casino. Earn Entries now through July 28th! The Grand prize Winner will walk away with a new 2019 Jeep Grand.