It's Denver's favorite morning radio show! And that's not just US saying it – the Colorado Broadcasters Association has etched our names on a bunch of plaques.
Dom has hosted the morning show for a LONG time. (Let's put it this way: there are college seniors who weren't born yet when Dom started at Mix 100.) Jeremy has also been making you laugh with his quirky stories and wacky sense of humor since 2004!
Join us weekday mornings for a ton of laughs, the Trending Report, Rattle Off, and the most popular radio contest in the world, The Mindbender.
You can listen online, on your smartphone (just search for "Mix 100 Denver" in your phone's app store), smart speakers – or enjoy to thousands of our podcasts at Mix100.com. No matter how you find us, you'll quickly become part of our family. Thanks for starting your day with Dom and Jeremy! YOUR BOYZ IN THE MORNING!
---
We know you follow us on Facebook… But if you didn't, this would be our reaction. FOLLOW US for the latest Dom and Jeremy updates from Mix 100!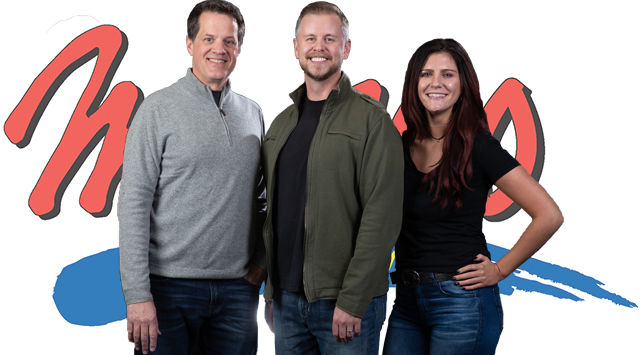 ---
Are you following Dom and Jeremy on Instagram? Click to Follow!
Mix 100.3 Morning Podcasts
May 22, 2019
Being able to wear comfortable underwear
If you want to check on the health of a particular car model, quickly scan the sales numbers. It's not unusual for a model to fluctuate based on several factors,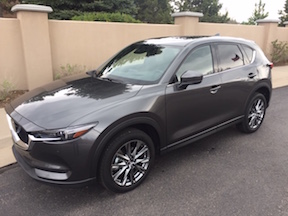 including how recently it's been updated.
But when you check the numbers on the Mazda CX-5 you see something very telling. Those sales figures have increased every single year since the small crossover/SUV was first introduced to the American market in 2012.
In fact, from 2017 to 2018 it enjoyed a very healthy 18% jump. People, it seems, really dig this car.
And they should. You can be a real stickler and dig to find a few things to nitpick about — but there won't be many. The CX-5 knows its market and certainly knows how to cater to it. It's one of the better crossovers I've driven in the last year.
Dom In The Morning Blog
Red, white, and you. Start off your 4th of July with Denver's original and most iconic 4th of July run/walk 4 Mile event. Fun interactive activities with the Denver Fire Department thanks to our Charity Partner, the Denver Fire Department Foundation.
The Liberty Run 4 Mile, has something for all ages and abilities. You can run or walk, or you can take part in our competitive USATF judged race walk. Plus kids 8 & Under can enjoy our FREE Firecracker 100 Meter Kids Fun Run.
NEW: VIP Experience (limited availability) – includes: Access to VIP Tent, Amazing Food, Beverage, Private Porto-Potties, Special Photo Area, Special Gift, and with the purchase of the VIP experience, one entry will be donated to a firefighter.
Attention Fire Fighters: Firefighter Department Team Competition. Compete with your department against others for the championship! All team sizes welcome, just be sure to register on the same team. We will take the top 4 fastest finishers for the competition. Fastest average time wins the prize and department bragging rights.
Dress in your best Red, White, and Blue! Prizes will be awarded for best child and adult display of USA!
Leave the sparklers at home and join the biggest bash of the season! Big Boom Bash by Lakewood, a FREE Fourth of July celebration, will take place on Thursday, July 4th, at Jeffco Stadium, showcasing a spectacular 20-minute fireworks display at dark! For event details, visit www.BigBoomBash.com or call the Big Boom Bash hotline at 303-987-7899.
Bring the family to enjoy children's activities, food trucks and great music. The Beer Garden presented by Foothills Credit Union will feature beer from Lakewood breweries. MIX 100 radio station will be on-site with prizes, playing contemporary hits and patriotic songs throughout the evening. The one-of-a-kind fireworks display will be choreographed to music simulcast by MIX 100, and spectators outside of the stadium are encouraged to tune in to 100.3 FM to celebrate the holiday.
Click here to read full story »
Don't miss Denver Pop Culture Con—the ultimate pop culture celebration—May 31-June 2 at the Colorado Convention Center. You'll have the chance to meet celebrities from film and TV shows like Stranger Things, Guardians of the Galaxy, Harry Potter, Doctor Who and more. Plus, meet hundreds of comic artists and writers, shop for geek gear, wear and see some of the finest costume creations, attend panels and workshops, and get your books signed by the best in sci-fi, fantasy, romance, and YA fiction. Tickets on sale now!
Denver Pop Culture Con is a program of the Colorado nonprofit Pop Culture Classroom, whose mission is to inspire a love of learning, increase literacy, celebrate diversity and build community through pop culture education. The proceeds from this annual event benefit Pop Culture Classroom's overall educational endeavors.


Click here to read full story »
This Week's Staycation is Sponsored by the Mardis Gras Casino! Win $1,000 every month for the rest of the year! Drawings every Saturday from 6PM – 10PM where you could win $100 or a seat into the Grand Prize Drawing to win $1,000 every month for the rest of 2019!
Click here to read full story »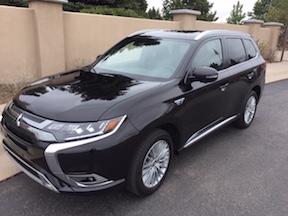 When it was first introduced in 2001, this crossover SUV was known as the Airtrek. The name was intended to produce a feeling of "footloose, adventure-filled motoring pleasure."
By 2006 a new name was introduced, the Outlander. This time we were told to expect a "feeling of journeying to distant, unexplored lands in search of adventure."
That's pretty cool, but what do I call it when I just want to drive down to the grocery store to get some eggs and maybe a glazed donut?
Marketing is fun!
For this review we're going to focus only on the PHEV version, which stands for Plug-In Hybrid Electric Vehicle. This is different from a traditional hybrid in that you plug it in to generate just enough miles to get to a single destination. Then you plug it in again.
Don't be alarmed; it also has a gas engine to pick up the slack.
The Basics
That gas engine is a 2.0-liter, 4-cylinder variety. Then you have twin 60kW electric motors, one for the front axle and one for the rear. Combine all three sources and you'll get about 190 horsepow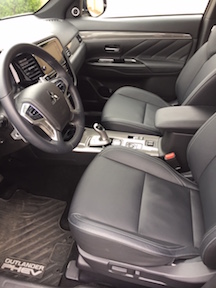 er.
There are two trim levels offered, the SEL and the GT. The SEL itself has a pretty good stable of standard features, including heated side mirrors, keyless ignition, leather seats, rearview camera, and more.
The GT level adds a few extra toys, like LED headlights, a sunroof, and the always-cool multi-view camera. On one level those freak me out (how do they DO that?) but I'm getting spoiled to having them, too.
The Outlander seats 5, and has a pretty generous amount of storage for all your outdoorsy toys in the back.
The plug-in feature works like this: With a full charge you should be able to motor about 22 miles on electric power. Once that's depleted the vehicle switches over to its gas engine. That switch is relatively seamless, and quite smooth.
There are other plug-in choices out there, and the Outlander's electric range might give you pause. But for many, the 20+ miles are enough to scoot them around town.
The Interior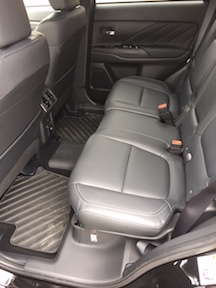 By employing the plug-in hybrid technology, this version of the Outlander sacrifices the third row of seats you get in all-gas models. Personally, there's no love lost between me and third-rows, so no worries there.
You get a fairly spacious passenger area because of this. The second row isn't huge, but has plenty of room for even tall passengers.
Storage space is decent up front, although I question the small center bin that loses some room to a center console that didn't need to be that large. I think most of us would give up that space in order to have a larger bin.
The Outlander could stand to add a few extra spaces for our inevitable junk, too, like cell phones, etc.
The rear cargo area sports about 30 cubic feet, but lower the second row and that space expands to nearly 80 cubic feet. That's fantastic.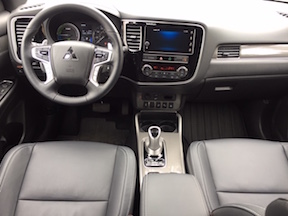 I wasn't crazy about the materials inside this SUV. I know Mitsubishi is really playing the "affordable" card when battling competitors, but a slight upgrade here would go far.
The Drive
Too many times I got the impression that the Outlander was running a half-marathon but had only trained for a 10k.
It often seemed to struggle during acceleration. Sure, lots of people will blame that on hybrid technology, but that's not the case anymore. Once up to speed it felt fine, if perhaps a bit noisy.
The steering was also a bit iffy. I just wanted a better feel when I was making turns, especially on a twisty mountain road.
Braking, however, is quite good. And although I never took the Outlander off-road, its dual motors that individually control the axels helps. Plus, ground clearance makes this a good choice to leave the pavement behind.
The Tech
Audio and climate contr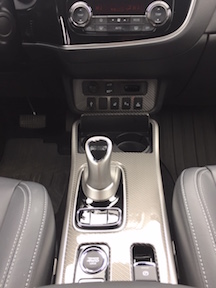 ols are easy and intuitive to operate, although I was underwhelmed by the Outlander's sound.
Good news for Apple CarPlay and Android Auto enthusiasts, because both are available here.
You get a couple of USB ports up front and another in the back. Plus – and this is always a nice feature – you get a standard home plug, too. Cars should have more of those.
Pretty much standard safety features are included, like blind spot warning and a rear-cross traffic alert system.
The plug-in system, which you'll find on the right rear panel (the traditional gas fuel tank is accessed on the left), is super simple to operate. The charging cable is tucked under the rear cargo floor, and you'll be plugged in and charging in about 30 seconds.
Both times I charged it I left it overnight. That easily gave me the 22 mile range I needed the next day.
The Bottom Line
The Outlander has a lot of potential to be a great city crossover/SUV. It just needs a bit more aesthetic love.
But if you're in the market for a hybrid, this plug-in variety offers great standard features at a price that could keep you from the luxury market just a while longer.
The Details
2019 Mitsubishi Outlander PHEV GT
2.0-L, 4-cylinder gas engine
Two 60-kW electric motors
1-speed transmission
Twin-motor all-wheel control (AWC)
Fuel economy: 74mpg (Electricity and gas), 25mpg (Gas only)
MSRP: $41,495
As tested: $42,920
Reviewed by Dom Testa
Vehicle provided by manufacturer
Click here to read full story »