It's Denver's favorite morning radio show! And that's not just US saying it – the Colorado Broadcasters Association has etched our names on a bunch of plaques.
Dom has hosted the morning show for a LONG time. (Let's put it this way: there are college seniors who weren't born yet when Dom started at Mix 100.) Jeremy has also been making you laugh with his quirky stories and wacky sense of humor since 2004!
Join us weekday mornings for a ton of laughs, the Trending Report, Rattle Off, and the most popular radio contest in the world, The Mindbender.
You can listen online, on your smartphone (just search for "Mix 100 Denver" in your phone's app store), smart speakers – or enjoy to thousands of our podcasts at Mix100.com. No matter how you find us, you'll quickly become part of our family. Thanks for starting your day with Dom and Jeremy! YOUR BOYZ IN THE MORNING!
---
We know you follow us on Facebook… But if you didn't, this would be our reaction. FOLLOW US for the latest Dom and Jeremy updates from Mix 100!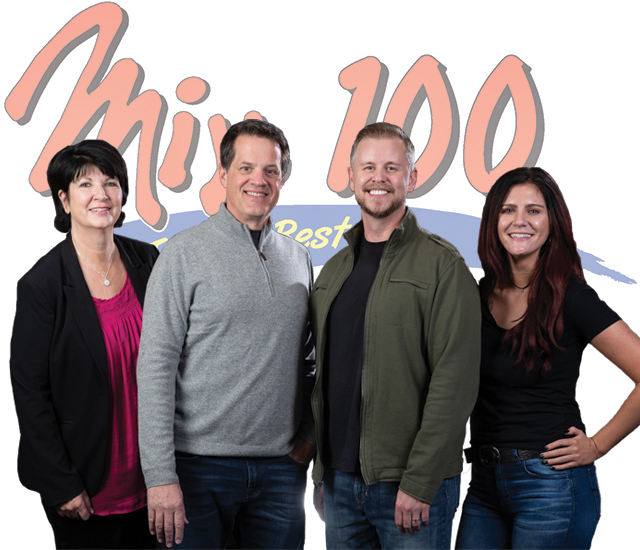 ---
Are you following Dom and Jeremy on Instagram? Click to Follow!
Mix 100.3 Morning Podcasts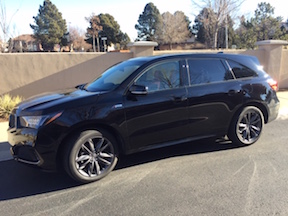 I love to learn how specific cars were named. Back in the good ol' days we actually got to have badass names for our rides, like Mustang, Cougar, Thunderbird, Camaro, and, uh, Accord.
Okay, so they weren't all badass. But at least they were names. Today we're drowning in letters and numbers. Who could ever be passionate about something called a Q50, an X5, or an FT-4X?
When I walked outside and saw the new Acura MDX at least I had a story. Do you know where Honda/Acura got those initials?
Multi-Dimensional LuXury.
Wait. Shouldn't that be MDL?
I wish they'd just called it the Acura Firestorm, or the Acura Governator, something we could sink our teeth into. Ah, well, they never asked me.
What they did, however, is dress up this latest version of the MDX. The crossover SUV itself debuted in 2000, and the third generation premiered about five years ago, so it's getting close to a complete overhaul, no doubt.
While you wait, check out this tricked-out version known as the A-Spec. What does A-Spec add to the MDX's engine? Nothing. To its suspension and/or handling? Nothing.
But it does dress the vehicle up with style, and lots of it, both inside and out. To quote some of the marketing materials from Acura, it adds "a sophisticated suite of human-centric enhancements."
So you'll dig it, but your dog will be non-plussed.
Look, I'm goofing around here. The truth is, the MDX is a damn fine vehicle, one that competes very nicely in the segment.… Continue Reading
Dom In The Morning Blog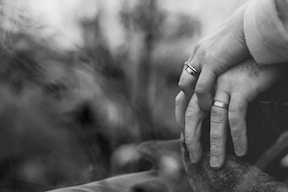 On the morning show we talked about couples renewing their wedding vows, a practice often seen on 10th or 20th anniversaries.
I gave it some thought during a commercial break and came to the conclusion that people might be looking at it the wrong way. Sure, you can renew your vows and pledge once again to be faithful and supportive — you know, the usual words spoken millions of times before.
But to me this puts your marriage vows on the same level as your car's registration, a routine that's somewhat mechanical, following an established procedure on a predetermined timeline that everyone follows.
After the show I drove home, still pondering the idea. Here's a link to my post about rewriting your vows.
Click here to read full story »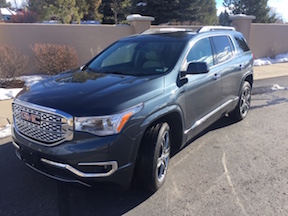 This is America, which means everything must get bigger and bigger. If ever the saying "size is everything" applies, it's the SUV category for automobile manufacturers.
If it was 185-inches long last year, then by gum we're gonna make it 189-inches this year. Harummphh!
But whoa, Nelly. The folks at GMC either didn't get the memo or they win the Rebel of the Year Award. A couple of years ago they threw everyone a curve by going the opposite direction with their Acadia.
I salute them.
I know, people who buy third-row SUVs often want something straight out of the Cretaceous Period. While the '19 Acadia does indeed have three rows (we'll talk in a bit about their frequency of use), it has the advantage of letting you spread out while not taking up two parking spaces.
The Basics
The Acadia can be found in four basic trim levels, although there are sub-trim levels, too. (Because we don't have enough choices in this country.)
But keep in mind that the SL model is by special-order only, so it's not likely you'll stumble across one on the dealer lot. That leaves the SLE, SLT, and Denali trims.
I drove the Denali for one week.
Lower levels come standard with a 4-cylinder engine that puts out a little over 190 horsepower. My Denali features a standard V6 that ups the game to 310 horses.
You get a multitude of configuration choices, too, including whether or not you want all-wheel-drive and/or a third row.
Exterior lines are nice, and the mid-size SUV has nice curb appeal.
The Inside
The Acadia is comfortable, and everything for the driver is laid out quite nicely.
Back seat passengers can lounge in captain's chairs, which are quickly becoming all the rage again.
The third row is, well, decent, and it obviously took a hit when GMC shortened the vehicle. The way I look at it, though, the Acadia can work for families who need that extra space every once in a while. I wouldn't want to use it regularly, but it could help in a pinch.
Otherwise I'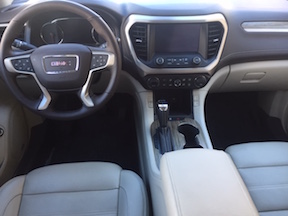 d suggest keeping that puppy folded flat to increase your cargo space and not have your 2nd row passengers feeling like someone is breathing down their neck.
Speaking of cargo space, things are just fine with the third row down. But if that row is up, well, there's not an abundance of room back there.
Controls are well placed, with everything within reach for the driver. I liked the front storage space, including a deep well between the seats and another good-sized cubby hole beneath the dash.
As a wild card I'll add this: It has perhaps the best heated steering wheel I've felt in a long time. I think it's the warmest I've driven with, and it toasts your mitts quickly.
The Drive
I give str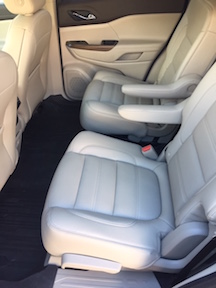 ong marks to the Acadia for its acceleration. Thanks to the generous V6, I never felt a lack of confidence either pulling out from an intersection or merging onto the highway.
The steering is equally good, and the braking above average. I liked the feel of the vehicle on both the highway and in city driving.
Overall handling is about what you'd expect from an SUV, even a mid-size one. It won't fool you into thinking it's a sports car, but I had zero issues maneuvering through traffic and into parking spaces.
Having shed several hundred pounds after its redesign a couple of years ago, you'd almost call it nimble.
I did not take the Acadia off-road, and I strongly suspect that few would. There are many more choices if you're into that activity. But this SUV will take good care of you in inclement weather – which I'm sure is the reason most people would choose it in the first place.
The Tech
Here's where I think the Acadia stands out from some of the competition.
Lately the
re's been a race among some car makers to see who can design the most intricate (meaning: difficult) systems for navigation, audio, climate, and communication.
I can't think of one driver I've met who enjoyed the endless run-around of complicated mouse-driven systems.
The Acadia employs lots of simple controls – which is not a slight. I'm applauding them.
Best of all is the climate control, which won't require you take your eyes off the road for long.
The 8-inch screen is easy to use with its large icons, and the Acadia comes with not only a wifi hotspot capability, but also Apple CarPlay and Android Auto availability.
The Bottom Line
I appreciate GMC's move in streamlining the Acadia. In a way it makes it stand out a bit more from the pack of mid-size SUV choices.
Granted, it'll cause some grumbling from people who want all three rows and large rear storage space. But if you don't often need that third row, you'll be fine.
It drives and handles well, and although it's not luxurious in its interior appointment, it's comfortable.
This is a very competitive segment in the industry, but the Acadia holds its own. It's a good choice for families to consider.
The Details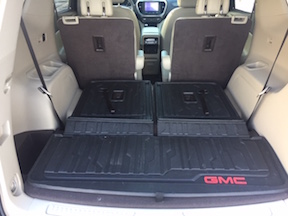 2019 GMC Acadia Denali
3.6-L V6, 310 horsepower
6-speed automatic transmission
All-wheel-drive (an option)
Fuel economy: 17/25/20 combined
MSRP: $47,500
As tested: $52,170
Reviewed by Dom Testa
Vehicle provided by manufacturer
Click here to read full story »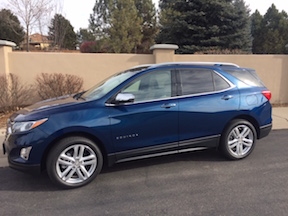 Before I even got behind the wheel of the Chevy Equinox – my first time to ever drive one – I was curious what others thought of it.
Discrepancies immediately popped up. Many of the professional reviewers were giving it anywhere from 3.5 to 4 stars out of 5. But actual owners had it hovering around 4.5. In other words, regular folks liked it much better than the so-called experts.
As soon as my week was up and I turned the Equinox back in, I realized who I sided with. And it wasn't the professional gearheads.
This is a former mid-size crossover SUV that today is often classed as a compact, thanks to a diet that shed about 5 inches in length over the years. It holds 5 passengers comfortably, and while it won't set the world on fire with performance numbers, it's a fun ride.
The Basics
There are four trim levels of the Equinox to choose from, but that's a bit misleading. The base model, known simply as the L, will be hard to find on car lots because it's a special order.
After that we're left with the LS, the LT, and then (no, not the LU) the Premier. My week-long test ride came in the all-wheel-drive version of the Premier.
Along with the trim choices, you also get to pick between engines. The base 1.5-L 4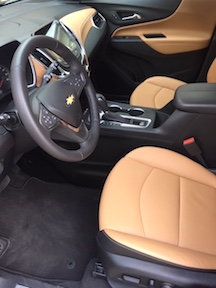 cylinder provides about 170 horsepower, and most reviewers (both pro and amateur) agree that this is an underpowered drive.
Stepping up to the 2.0-L turbo 4 bumps that power up to about 250 horses, and pairs it with a 9-speed automatic transmission.
If you're really wanting solid fuel economy, ask your dealer about the diesel option, which can boost your mileage to nearly 40 mpg on the highway.
If you live in Colorado or another snowy climate, just know that the base L comes only with front-wheel drive; stepping up to at least the LS allows you to choose AWD.
The Inside
I might take a few marks off the Equinox for interior materials, which seemed a bit on the low-rent side. But overall I found it a quiet, comfortable ride.
There's plenty of space to spread out for the folks up front, with roominess to spare. Even your backseat passengers will be comfy as long as you don't opt for the panoramic sunroof, which is a super-cool feature but costs your taller rear passengers some headroom.
I liked the leather-wrapped steering wheel, although it could telescope outward a touch more for my liking.
Storage up front is also quite good, with a deep well between the two front seats. Chevy has installed some cell phone holders, too, that use a protective rubber coating to cradle your digital companion.
Cargo space in the back scores about average for the segment, coming up short against some competitors.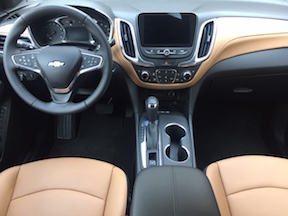 But overall it seemed plenty to me, especially with the rear seat folded. There's also room below, if you really need to stash your goods.
The Drive
Again, I'm siding with the average Joes and Josies on this. I enjoyed my trips around Denver in the Equinox. The ride is pleasant, the steering and handling are at least average if not a bit better, and the noise levels are good.
I give this compact SUV a high score for acceleration, too. I never once felt compromised when merging onto the highway. The turbo 4-cylinder can handle all you got. (This is where you'd regret taking the standard 1.5-L engine.)
Visibility is mostly good, although, like many SUVs, you're limited in your blindspot viewing by a pillar. (This is where the tech goodies come into play.)
I took the Equinox out for a leisurely cruise along Deer Creek Canyon just outside Denver, and it was a blast to maneuver the twisty roads. The engineers at Chevy have created a vehicle that's technically a family truckster but has a playful side, too.
The touchscreen on the Equinox is solid (there are 7-inch and 8-inch options). It's also simple and intuitive, which brings cheers from everyone.
I might question a bit of its placement, which seems just a tad awkward. I'm guessing that the next generation will tweak the angle of the screen just a bit.
You get plenty of USB ports both front and back, as well as a 120-volt outlet. The Equinox also offers a wireless charging pad.
Connectivity is very good, with Chevy's 4G LTE wifi hotspot system. Apple CarPlay and Android Auto are available, too, if you must have them. And I MUST have them these days.
The standard features of each Equinox are good, but various packages will open things up a bit. My Premier came with the Confidence & Convenience II package (which just sounds funny to me). That added a variety of seat adjustment options, along with ventilated seats, adaptive cruise control, and a basket full of other safety features. The HD surround vision is terrific.
The Bottom Line
I suppose some of those pro drivers are paid to be ultra-critical at times, but count me among the legion of Equinox drivers who find it to be a fun, somewhat-sporty little crossover/SUV.
The price range can be extreme, thanks to the big differences between the trim and engine choices. You're looking at anywhere from the low 20s to the mid-to-upper 30s.
Mileage is respectable, and cargo-carrying abilities are about average.
Because of its fun ride and the myriad tech choices, the Equinox is a solid choice for families looking for a smaller-to-midsize SUV.
The Details
2019 Chevrolet Equinox Premier
2.0-L turbo 4-cylinder
9-speed automatic transmission
All-wheel-drive (front-wheel drive available)
Fuel economy: 22/28/24 combined
MSRP: $35, 600
As tested: $37,745
Reviewed by Dom Testa
Vehicle provided by manufacturer
Click here to read full story »
Join Sinna-G frim MIX100 this Sunday at Oakwood Homes Meadows Carriage Park House in Castle Rock from 11am-1pm, tour the model homes and enter for your chance to win AMAZING tickets to upcoming Pepsi Center events!
Click here to read full story »
This week's Staycation is sponsored by Golden Mardi Gras Casino. Let your good times roll this February! Don't miss drawings Saturdays, February 9 & 23 from 5PM – 10PM, where 2 winners will receive up to $5,000 FreePlay every half-hour!
Click here to read full story »