It's Denver's favorite morning radio show! And that's not just US saying it – the Colorado Broadcasters Association has etched our names on a bunch of plaques.
Dom has hosted the morning show for a LONG time. (Let's put it this way: there are college seniors who weren't born yet when Dom started at Mix 100.) Jeremy has also been making you laugh with his quirky stories and wacky sense of humor since 2004!
Join us weekday mornings for a ton of laughs, the Trending Report, Rattle Off, and the most popular radio contest in the world, The Mindbender presented by Safeway!
---
We know you follow us on Facebook… But if you didn't, this would be our reaction. FOLLOW US for the latest Dom and Jeremy updates from Mix 100!
---
Are you following Dom and Jeremy on Instagram? Click to Follow!
Mix 100.3 Morning Podcasts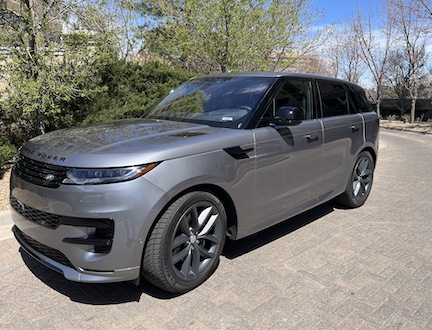 It's interesting how the earliest sport utility vehicles were beasts made for one thing: getting you off-road and into the mud. Today, the world of luxury SUVs has exploded. Now you can take the vehicle off the pavement if you like, but driving it to work or to the theater has never been more stylish and comfortable.
Range Rover is a prime example.

The Basics

The Range Rover Sport SE Dynamic has been completely redesigned for 2023, and the changes included adding more space for passengers. I drove the Sport SE, which is pretty much in the middle of the trim levels. It provides a mid-level engine, but offers some treats you won't get at the base end of things. And with the redesign, it's now three inches longer than the previous generation.
This Sport SE Dynamic model is sleeker than some of the larger Range Rover choices. I've looked at both, and while the high-end has enviable additions, I think it comes at a visual cost. In other words, I think the little brother wins this one.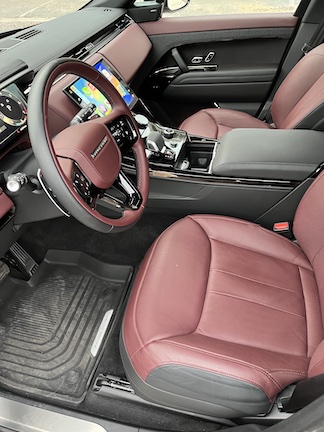 The engineers made a variety of adjustments on the exterior of the Sport model. The front bumper rides a little higher and has a distinctive face to it. The back side? Well, it seems to be polarizing. Some people prefer it over the standard Range Rover, while others chirp about the odd positioning and appearance of the tail lights. Hey, we like what we like, right?
I especially enjoyed the flush deployable door handles that melt into the side of the vehicle, giving it an even more streamlined look.
Range Rover calls the mid-level engine their P400. It's an inline, turbocharged six-cylinder setup that produces just under 400 horsepower. Coupled with that is an 8-speed automatic transmission and all-wheel drive.
But there are several other options to choose from, depending on your trim level. You could move down to the base model to save a few bucks, or you could move up. If you opt for the First Edition model, you'll get a twin-turbo V8 that pumps out a whopping 523 horses.
There's also a plug-in hybrid model, and Range Rover says they'll unleash an all-electric version in 2024.

I was impressed with the combo leather/fabric interior, which looks and feels terrific. You'd have to move up to get the fancy wood look, if that's what you're into. But I wouldn't.
The Inside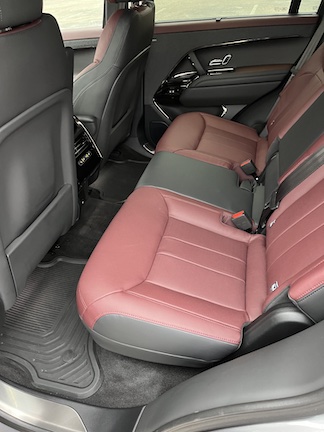 You can find trim levels where the Meridian sound system comes with 29 speakers. I mean, the sound in my test vehicle sounded fantastic and I have zero complaints about it—but TWENTY-NINE speakers? I couldn't tell you 29 places in a car where a speaker would even fit. And the persnickety side of me wishes they'd crammed in just one more to give us 30, a much more pleasant and balanced number. But, bottom line, your tunes will sound delicious as you motor along.
Not to be outdone, the seats provide up to 20 adjustments. Dude, if you can't eventually get comfortable in this vehicle, there's no hope for you.
Tons of great storage up front, including a deep well between the seats. Plus, even the cup holder in the front pulls out, providing more storage space. And the wireless phone charging station is tucked neatly within the dash. That's a nice touch.
The panoramic roof—which has been one of my favorite car features since they first appeared—is standard, so you won't pay extra for it. It's perfect for those gorgeous days when you just want to take a ride through the hills.
Because of the longer wheelbase with this new design, your passengers in the back seat get a touch more legroom. Overall, I found that space to be generous. Sure, you're paying for it, but it's another positive checkmark. And that panoramic roof helps to eliminate any claustrophobic feeling for your friends in the back. Those seats, by the way, have their own power reclining feature and personal sunscreens for the rear windows.
If you're ready to haul stuff, you'll find 38 cubic feet of storage in the way-back. Fold down those rear seats and the space nearly doubles to 72 cubic feet. That's more than several competitors.
With the vehicle's air suspension, Range Rover gives you buttons in the rear storage section that will lower the height of the opening, making it easier for you to load your stuff. That's well played.
And, if you fork over an extra $560—and I would—you don't get some chintzy donut spare tire. Range Rover will provide a full-size spare. Yes, the full 23-inch monster. You rarely see that anymore.

The Drive
Normally, the Range Rover comes with 21-inch wheels. My test model rode on 23-inch wheels. You'd think that would be rough and noisy, but Range Rover's adaptive air suspension smooths out the ride and road sounds are kept to a minimum.
Overall, I loved the ride. Handling is smooth and crisp, certainly an improvement over the Range Rover's larger siblings. In this case, the Sport version is the superior ride.
Let's be clear: This vehicle isn't made to slam you back into the headrest with monster power. But for my daily driving experiences, it was exquisite. Good acceleration, nimble handling, and a good touch to the steering.

The Tech

We were talking on the radio show about how car makers might start moving away from so many touchscreens and going back to knobs and buttons. Well, Range Rover is quite happy with their touchscreen, thank you, and they dump a sizable number of your decision-making into it.
In the Sport, it's a 13.1-inch color touchscreen, loaded with icons for making adjustments to scads of things: climate, seats, entertainment, communication, navigation, and much more.
The good news is that this screen has a sharpness that makes everything easy to read, and it's also responsive to your touch.
Then, looking straight ahead at the instrument panel, you get another large screen. This one measures 13.7 inches. You'll like the ability to customize what shows up on that display, although it takes a bit of messing around with the steering wheel controls to get it all right.
It took me a while to get used to Range Rover's basic climate controls. On one hand, they're knobs, which is good—but you have to figure out how to switch between temperature and fan control, and then another adjustment to get to the seat-warming features. It's essentially pushing and pulling on the knobs. Once you learn, it's fine, but it's another example of manufacturers getting a bit too cute.
You get all sorts of connectivity options throughout the Range Rover Sport, including USB ports, a 12-volt plug, and even a household 110-volt outlet.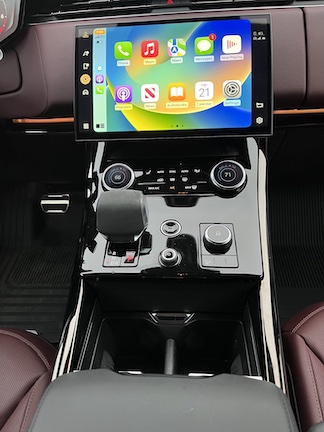 As with most cars these days, some of your most-wanted features are wedged into specific options packages. In this case, it might be worth the extra $1,795 to get the Technology Package because it includes the head-up display, which will spoil you.
And, finally, you'll see a generous helping of safety features in the Range Rover. Adaptive cruise control, emergency braking, blind spot assist, a terrific 3D surround view camera system, parking aids, and much more.
The Bottom Line:
There are multiple choices in the luxury SUV market, and Range Rover has enough competition to keep them on their toes. But while some (Porsche, BMW, Audi) have special touches that elevate their value, the Range Rover is a nice alternative. It provides a sumptuous interior, a smooth, quiet, comfortable ride, and a pleasing number of tech options to make your trips enjoyable.
What more could you ask for?

The Details
2023 Range Rover Sport SE Dynamic
Inline turbocharged six-cylinder
395 horsepower
8-speed automatic transmission
All-wheel drive
Mileage: 18/26/21 combined
MSRP: $90,000
As tested: $100,085
Reviewed by Dom Testa
Vehicle provided by manufacturer
Dom In The Morning Blog
We can't wait to celebrate with you at the MaximBet Maxquerade. Colorado has never seen a party of this magnitude. With celebrity entertainment, thousands in prizes and giveaways, and a vibe that can only be described as legendary, you need to be there. Space is limited, so if you're in, please confirm your attendance as soon as possible.
Get ready to celebrate at the MaximBet Maxquerade, the first-ever MaximBet LIVE party. We're going to show you the time of your life!
Check out their butt in a mirror
Pauly Shore in that classic, "Biodome."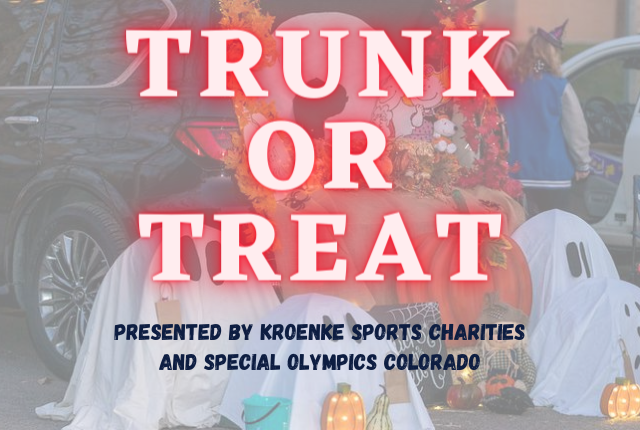 KROENKE SPORTS CHARITIES and SPECIAL OLYMPICS COLORADO are hosting a HALLOWEEN TRUNK OR TREAT at BALL ARENA on OCTOBER 28TH from 4-7PM. Enjoy a costume contest, Mystery Prizes, and More! Tickets and info at specialolympicsco.org/TrunkorTreat !
All proceeds from this event benefit Special Olympics Colorado's Young Athletes program. Throughout the year, the Special Olympics Young Athletes program invites children ages 2-7 with intellectual disabilities to engage in the world of sport, with the goal of preparing them for Special Olympics sports training and competition when they get older.
Each season, the Avalanche, Nuggets, Rapids and Mammoth host individual Special Olympics athletes in a myriad of clinics and events. Avs and Nuggets players, coaches and staff run through fundamentals and drills as athletes of all ages get the opportunity to hone their skills at Pepsi Center; Young Athletes are invited to a sports field day each summer; and the Rapids host a Unified team made up of athletes of all levels of intellectual ability.
This year's Harvest Festival Trunk-or-Treat event will be a fun, inclusive and safe way for kids to participate in Halloween while raising awareness and funds for Special Olympics.